Our most popular colors have been standardized for easy use and are available as masterbatches or precolors in 12 different engineering resin systems.
These standard colors speed product development with quick sampling, and are available globally to simplify manufacturing in multiple or distant locations.
Each color's formulation has been optimized to make processing as effortless as possible whether molding or extrusion is used.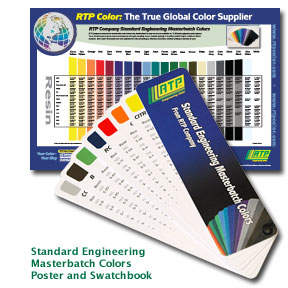 Color
Resin Systems
Product Numbers
LDR
White
 
 
 
 
Blue White
 
 
 
 
Citrus Yellow
 
 
 
 
Sun Yellow
 
 
 
 
Orange
 
 
 
 
Red
 
 
 
 
Dark Red
 
 
 
 
Violet
 
 
 
 
Light Blue
 
 
 
 
Royal Blue
 
 
 
 
Navy
 
 
 
 
Light Green
 
 
 
 
Forest Green
 
 
 
 
Lime
 
 
 
 
Aqua
 
 
 
 
Beige
 
 
 
 
Brown
 
 
 
 
Cool Gray
 
 
 
 
Dark Gray
 
 
 
 
Black
 
 
 
 
FDA Black
 
 
 
 
RTP Color also develops custom color masterbatches in these and many other polymers that are compatible with all molding and extrusion processes.
Please contact one of our Color Account Managers or your local RTP Company Sales Engineer to begin developing a custom color for your application.
Visual representations of color and electronic images on this website will vary greatly depending on various settings and the manufacturer of your computer system, monitor, and the web browser software used to display such color and images. Therefore, it is recommended that you obtain a sample of any product prior to purchasing for color verification and approval. RTP Company disclaims any responsibility for reliance on the colors or electronic images rendered herein.