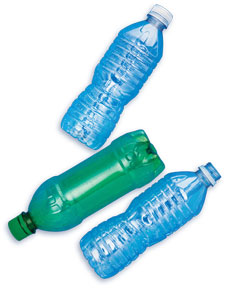 RTP Company recently made available a new series of specialty compounds using post-consumer content (PCC) resins. The reclaimed resins are plastics diverted from solid waste streams through recycling programs. PCC compounds from RTP Company provide an additional environmentally-conscious option to the material selection process.
"Our PCC compounds have distinct environmental advantages over non-recycled materials and are an ideal solution for those needing to source greener products," said David Dodds, Technical Marketing Manager at RTP Company. "RTP Company has the engineering and compounding expertise to tailor PCC compounds to target specific performance requirements while including properties from our complete portfolio of specialty compounds — thereby providing a more sustainable, multi-solution product."
The percentage of reclaimed material in the polymer component of PCC compounds can range from 1 to 100% depending on the requirements of individual applications. This makes them easily customizable to meet corporate environmental sustainability goals or marketing objectives to increase consumer appeal.
PCC compounds are available globally in nylon (PA), polycarbonate (PC), and polyethylene terephthalate (PET) resins, as well as alloys based on these post-consumer feedstocks. Engineering versatility allows these recycled materials to be used in a wide range of applications for consumer goods, building materials, automotive components, and electronic devices.