End-Use Case Study
Elastomeric part stretches into place, eliminating welding process
Translucent blue color allows aluminum parts to show through
UV stabilized for good weatherability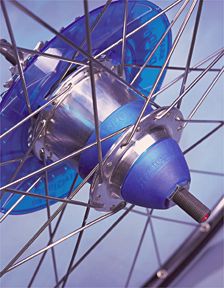 SRAM Corporation, a global manufacturer of OEM bicycle components, recently introduced an innovative new design for its Dual Drive system found on the rear wheel of mid- to high-end leisure bicycles. The Drives act as a transmission, engaging three internal gears and numerous external cogs as the rider shifts to accommodate terrain changes.
Traditionally, the decorative elements are assembled from components made of opaque molded thermoplastics. The components are then printed with graphics and ultrasonically welded together.
SRAM's vision to introduce a new, high-tech look and to save assembly costs led them to RTP Company. "There was really only one material that would meet our specifications," said Patrick Brady, Industrial Designer for SRAM. "RTP was able to provide a critical translucent blue color match in a Vistaflex® thermoplastic elastomer. The material also offers UV stabilization for long-term weatherability."
The flexible part stretches into place, eliminating the welding step. Its translucent color allows the polished aluminum to show through for a unique effect. SRAM saved even more money and enhanced the look by molding graphics right into the part, thus eliminating pad printing costs.
The elastomer components are molded in Germany to take advantage of SRAM's global manufacturing and marketing resources. "We're lucky to have RTP's plant right next door in Beaune, France," continued Brady. "They ensure that the color match is correct and consistent. When you put multiple colored elements together, an incorrect hue in one of them can ruin the entire effect."
SRAM Corporation's world headquarters are in Chicago, Illinois, with six state-of-the-art manufacturing facilities around the world. Call them at 312-664-8800 or visit their website at www.sram.com.
Vistaflex® is a registered trademark of Advanced Elastomer Systems