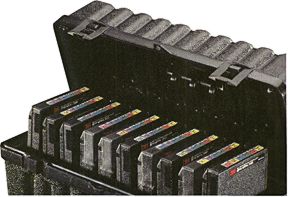 Protecting sensitive magnetic media from static electricity prompted Perm-A-Store, Inc. of Wichita, KS to develop the Conductive Turtle® cases. These innovative, blow-molded cases guard against damage to data and tapes.
"If it is not properly restrained or redirected, static discharge can, and does, erase or alter the recorded data on backup tapes," says David Leben, president of Perm-A-Store, Inc. "The material's conductivity ensures that static electricity will be dissipated before it can damage the cases' contents." The durable cases protect their contents from physical damage, too.
Perm-A-Store contacted RTP Company to formulate a material with the proper physical and conductive characteristics to meet their needs. A conductive RTP 700 Series (high density polyethylene) specialty compound achieves these properties.
The material exhibits a surface resistivity of 105 ohms/sq. The compound exhibits an unnotched impact resistance of 22 ft. lbs./in. (1,175J/m) at 1/8 in.
"Our top priority was striking a balance between processing ease and material properties," says Leben. "The cases meet both requirements and we have an excellent product as a result."
Perm-A-Store (tel. 316-264-4144) manufactures storage and transport cases for all types of computer backup media for mainframes and personal computers. The cases are available in various sizes, colors and styles.