CAE Analysis Optimizes Tool Design for Engineered Compound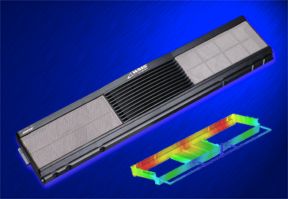 Creating "the most entertaining products in the world" is no small feat. Yet, that is the mission of WMS Gaming as they manufacture and globally market casino gaming devices and systems. Take a glance, or a chance, on one of their video games in their new Bluebird? cabinet, and you'd be hard pressed to bet against them.
WMS focused on player entertainment and comfort in the Bluebird cabinet design because casino revenues are highly dependent on game popularity. The cabinets incorporate a stylish, yet functional design with a premium sound system to make the player's overall gaming experience more enjoyable.
When developing the sound bar onto which four sound system speakers inside the cabinet are mounted, WMS and their molder, Top Die Plastics, wanted to use a single material that would address all issues. Requirements included toughness and strength, flame retardant properties with accompanying UL recognition and CSA certification and electrostatic dissipation capabilities. Material testing included a requirement that the material withstand 80,000 volts from a simulated cattle prod.
Based upon previous successful relationships, Top Die sought out RTP Company, whose engineers recommended an RTP 300 Series static dissipative compound for the sound bar. The product features polycarbonate resin compounded with conductive and flame retardant additives. Combined, these two additives raise melt viscosity, so an adjustment was made to create a high flow, "easy molding" grade.
As the part design progressed, concerns arose relative to consistent part-filling and tool design. WMS assumed this required production of an expensive and time-consuming three-plate mold. Instead, RTP Company's computer-aided engineering team was called upon to perform a mold-flow analysis to model the material's characteristics with the existing mold plan. WMS's Norm Wurz credits forward-thinking engineering as key to the project's fruition. "RTP Company insisted on the flow analysis," said Wurz, "and Top Die adamantly agreed."
"We were fortunate to work with two companies who were wise enough to gather data and open-minded enough to accept it as it was, and not as we wished it to be," said Wurz. Successive iterations of the molding analysis tested alternate runner sizes and gate locations to optimize the mold design. Wurz added, "Performing such an analysis before cutting steel not only spared expense, but also kept the project on schedule. RTP Company increased the value of our product by providing support to customize it specifically to meet our needs."
Wurz finished by saying, "It is very important to our company to find partners concerned enough with our success to stress the proper way of doing things. Having the ability to outline steps to a resolution and then carry out that plan is, well, like our ace in the hole."
WMS Gaming Inc. of Waukegan, IL, designs, manufactures and markets video and reel-spinning gaming devices and video lottery terminals. For more information, visit their website at www.wmsgaming.com.
Top Die Plastics, Inc. produces top quality injection moldings from their facilities in South Beloit, IL. For more information visit their website at www.topdie.com.
Bluebird is a trademark of WMS Gaming Inc.