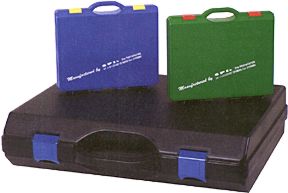 When one of their top distributors, Faes BV of Bladel, Netherlands needed static dissipating cases, SPI BV of Eersel, Netherlands knew what to do. They contacted RTP Company Benelux distributor, Distrupol BV.
The cases are used for transport and storage of sensitive electronics, dictating a tough material with a surface resistivity of 107 ohms/sq.
An RTP 100 Series (polypropylene copolymer) specialty compound meets all requirements. It exhibits an un-notched impact strength of 20 ft. lbs./in. (1,068 J/m) at 1/8 in. and a tensile modulus of 200,000 psi (14,000 kg/cm2).
The suitcases come in eight sizes and the exteriors of the suitcases can be imprinted depending on their intended purpose.
Distrupol BV facilitated the formulation, testing and specification of the specialty material for the SPI BV project. The suitcases are molded under strict quality guidelines by SPI BV and are available through commercial distributors throughout Europe. The success of the project is attributed to collaborative efforts among SPI BV, Distrupol BV and RTP Company.