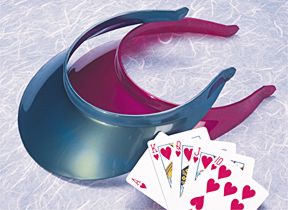 Visors featuring RTP Company's new Chroma-Shift compounds change color with just a slight movement of the head. The polystyrene visors, produced by Precision Molds and Molding, "shift" color because of a precise combination of pigments and dyes that display geometric metamerism, commonly referred to as "color travel" or "chameleon effect." The colors feature excellent heat and light stability and can be suitable for FDA applications.
This new color technology works best with resins exhibiting some degree of light transmittance, such as polycarbonate, color ABS, polystyrene, and acrylic. There are numerous combinations of Chroma-Shift precolored compounds, including green/blue, maroon/gold, gold/green, purple/green, gold/black, and blue/red.
Processors prefer the reliability and consistency of RTP Company's precolored compounds over masterbatches, since predicting the behavior of these unique pigments with resin systems, additives, and environmental lighting is difficult. Experienced color specialists at each of our plants thoroughly understand how pigments and dyes interact with virtually every engineering thermoplastic compound. And, our computerized library contains nearly 40,000 successful color matches?helping us deliver most color matches, samples, and production orders in just 5-10 days.
Precision Molds & Molding, Chatsworth, California, sells a variety of premium and gift products. Call 818-998-6822 or e-mail them at mdanial510@aol.com.