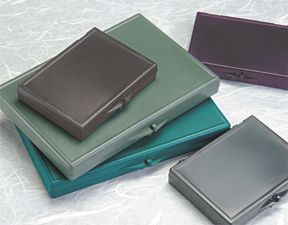 The electronic industry loses billions of dollars annually due to damage from electrostatic discharge (ESD). In an effort to minimize these losses, Stat-Tech? (a division of Gary Plastic Packaging Corporation) develops and manufactures injection molded, rigid plastic packaging to protect sensitive electronic parts. Much of this packaging is molded from RTP Company conductive and static dissipative specialty compounds.
"We offer 65 different sizes and have molds for 300 stock-sized containers," explains Chuck Nostrome, Stat-TechT? Sales Manager. "Our LemcenT? line features semi-transparent and opaque packaging that can be imprinted with metallic dry leaf foil to identify the properties and warn users about ESD. We can custom mold most sizes in conductive or static dissipative material."
Stat-Tech's newest container is molded from RTP Company's Inherently Conducting Polymer (ICP) Compounds. ICP Compounds fill a void in the industry with reproducible surface resistivity in the optimal ESD range of 106 through 109 ohm/sq. In addition to unique tuning capabilities, these all-polymeric compounds are non-sloughing and are less expensive than carbon-fiber based compounds.
"Our customers are demanding packaging in this narrow static-dissipative range," continued Nostrome. "In addition, they want some color choices and good impact resistance." The ICP 400 high-impact polystyrene compound features surface resistivity of 106 to 107 ohm/sq. Stat-Tech's standard product is blue, one of six colors that are offered by RTP Company for this family of compounds.
RTP Company has an exclusive license from Panipol, Ltd., of Finland to manufacture melt-processable ICP thermoplastic compounds. Current resins include polypropylene, polyethylene, and polystyrene for injection or blow molding, blown film, or sheet extrusion.
Stat-Tech? is a wholly-owned division of Gary Plastic Packaging Corporation, a large injection molder in Santa Ana, CA. Celebrating its 38th year, the company manufactures all of its own products in more than 300,000 square feet of space. For more information, call 1-800-222-GARY or visit their website at www.stat-tech.com.