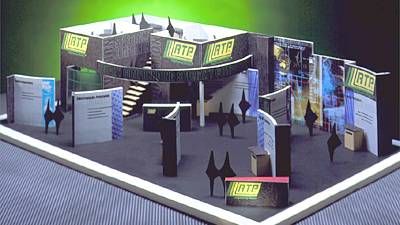 If you need more than off-the-shelf thermoplastics, you need more than off-the-shelf engineering.
You'll find it at NPE 2000 in Booth #9323. That's where RTP Company's world-class engineers will proudly show their latest developments in specialty compounds. Our engineers are specialists who imagineer the perfect compound that meets your specifications for processing, performance, and appearance.
Begin your NPE visit with us on Level 1, North Hall. Twelve "innovation stations" will capture your imagination with exciting demonstrations, multimedia presentations, working applications, and hands-on product samples. The time you spend with RTP Company could easily be the most profitable of your show experience. You'll come away with creative solutions for existing and emerging applications.
"Each of the stations gives visitors something to do, touch, see, and explore," explains Connie Hawkinson, Marketing Communications Manager. "It's a great opportunity to get an overview of our entire product line, then spend one-on-one time with an expert in a particular technology. Our booth will be staffed with sales engineers and product development specialists who have years of experience helping customers solve the toughest problems."
NPE 2000 is only days away. For more information, visit our website at www.rtpcompany.com, then chart your course for Booth #9323 at The World's Plastics Showcase in Chicago's McCormick Place.
NPE Sneak Preview . . .
RTP Company plans to announce several new products and services at NPE 2000. Stop by our booth to learn more about:
New solutions for strong, cost-effective compounds
Lightweight compounds with superior barrier properties
Professional, computerized services to increase your success
Tunable, all-polymeric compounds
New low-particulate compounds
"Sparkling" new colors