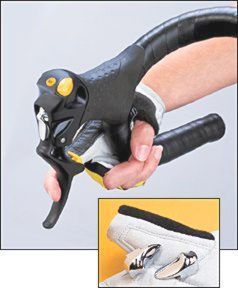 Professional bicycle teams throughout Europe rely on sturdy, cutting edge hand brake mechanisms from MAVIC S.A. in Saint Trivier sur Moignans, France. Part of the high-tech look comes from a silver grip adjustment lever that shines like metal but is actually an electroplated polypropylene compound from RTP Company.
Searching for increased design freedom on a complex shape, MAVIC S.A. turned to RTP Company's Beaune, France, plant for a specialty compound that could be produced in large quantities at a lower cost than metal. The electroplating process is completed with very low scrap. It eliminates expensive and time-consuming steps associated with metals, including casting, polishing, machining, buffing, applying primer, and plating.
RTP Company's engineers developed a mineral-reinforced RTP 100 Series polypropylene compound. Polypropylene was selected for its glossy finish that carries through to a smooth and shiny plate, and for its good chemical resistance against solvents and grease. With a flexural modulus of 0.26 psi x 106 (1800 MPa), the compound has sufficient resilience to make assembly easier.
Accelerated weathering tests were conducted on the plated parts to ensure long-term adhesion of the thin metal layer.
MAVIC S.A. is a division of adidas-salomon A.G., a world leader in sporting equipment and leisure technologies. Contact them at +(33) 04 74 55 80 55.
The molder is Arbent Plastique, located in Oyonnax, France.