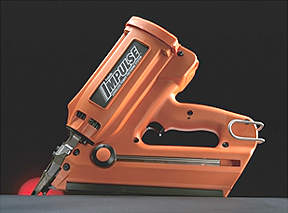 ITW Paslode of Vernon Hills, IL developed the first, and only, cordless nailer serving the construction industry.
The Paslode Impulse Compact, weighing less than 7 lbs., is used for new construction and remodeling. The Compact is ideal for light framing, joists, rafters, bridging, soffits, stairs, sheeting, roofing and decking. The Compact is available through commercial distributors and many retailers.
The housing and other exterior components of the Compact are injection molded for aesthetics and close tolerances.
Since the Compact is used in rugged environments, the main housing and other components require high impact resistance, strength and rigidity. RTP Company, Paslode and molder McKechnie Plastic Components of Minneapolis teamed-up to determine and meet all material requirements.
An RTP 200 Series, impact modified nylon 6/6, compound was formulated to achieve all properties. The compound, which also meets a critical color match, achieves an unnotched impact (at 1/8-in.) of 18 ft. lbs./in. and a flexural strength of 19,000 psi.
RTP Company colorists, Paslode and molder McKechnie Plastic Components worked closely to determine exact color needs, while achieving a high level of processability. Since a limited number of pigment systems achieve the bright orange color, each was evaluated for processing ease.
For details about the Compact, call a local home center or ITW Paslode at 800-323-1303.