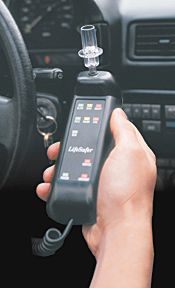 Drunk driving offenders in many states now have a choice: Forfeit their license or test their breath alcohol content before and while driving with the LifeSafer? Interlock device. Hard-wired to the starter circuit of the car, the LifeSafer? Interlock's sophisticated, static-sensitive electronics log activity and send reports via a secure electronic link to a remote access site.
Engineers at LifeSafer? came to RTP Company in need of a conductive thermoplastic compound for the housing of its second-generation unit. "Static was always a problem, particularly in the winter. This is a handheld device, and touching it caused a shock that reset the entire system," explained Ed Gollar, Director of Engineering/Product Development. "Once we switched from a PC/ABS material to the new RTP compound, we no longer have that problem."
The housing compound, an RTP 300 Series polycarbonate, is impact modified and precolored black, and offers ESD protection. The material displays maximum surface resistivity of 105 ohms/sq. and notched Izod impact strength of 2.5 ft lbs/in (134 J/m) at 1/8 inch (3.175 mm). "RTP Company always comes through with lot-to-lot consistency," remarked Tom Richards, Plant Manager with molder Deimling/Jeliho Plastics.
"RTP's customer service and technical support are just outstanding," added Lisa Walsh, Production Control Manager for Deimling/Jeliho. "Our initial mold trials resulted in breakage of some of the thin ribs in the bottom of the part. RTP Company's technicians worked with us to increase the draft angle on the ribs. The parts now run smoothly and efficiently, without breaking."
LifeSafer? Interlock contracts primarily with private service providers that deliver their technology to the criminal justice market. They are located in Cincinnati, Ohio, at 1-800-531-0006. Deimling/Jeliho Plastics has been in business for 23 years in Amelia, Ohio. Call 513-752-6653 or visit their website at www.deimling-jeliho.com.