End-Use Case Study
Carbon fiber reinforced ABS reduces cost
Protects sensitive electronics from electrostatic charges
Low outgassing compound prevents corrosion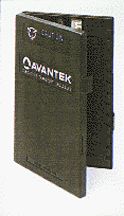 A carbon fiber reinforced ABS material compounded by RTP Company provides conductive properties needed for a new substrate carrier box. The box, patented under the name Conductive Transport Enclosure, is made by Avantek Inc., a Santa Clara, California manufacturer of microwave semiconductors, amplifiers, oscillators and other electronic components.
Elimination of potential damage to sensitive circuits from electrostatic charges during manufacturing phases was achieved when using a carbon fiber filled ABS compound, ESD C 680. This material was selected because of its easy flow and reduced wear on molds and machinery. The compound is less expensive than the other materials considered, yet it's more than up to the task.
Another potential source of damage to the substrates was outgassing by the enclosure material. Laboratory tests revealed that after a short initial time period, the RTP compound displayed no significant outgassing, thus preventing corrosion and other damage to the substrates during manufacturing, transportation and storage.
Avantek selected Plasticorp of Harbor City, California as their molder because of their reputation as a full service, precision, custom injection molder and tool maker.
To insure a successful transformation from concept to finished product, a team effort was established that included project design engineers, material managers, and sales engineers from all three companies. This networking allowed the project to move smoothly through design prototype and testing, and continue on into production in excellent time.
The 4.5- by 7.0-inch carrier can carry up to 52 substrates, secured with spring-loaded sliding plungers. An antistatic plastic sleeve on the front of the box holds an inventory card. In all, there are over 110 individual pieces in the finished, ready to ship assembly.