Experienced Team Focuses on Quickly Meeting Customer Needs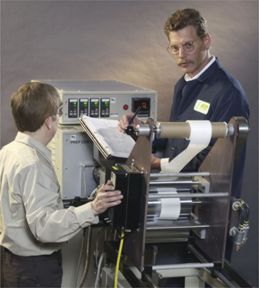 RTP Company recently announced the formation of a new laboratory with equipment and staff dedicated solely to the support and development of extrusion grade specialty compounds. As a long recognized global leader in the customization of thermoplastics for injection molding, RTP Company has taken yet another step in its evolution as a full-service provider of custom compounds for multiple processes.
Alain Creissen, Business Manager for Extrusion Applications, says that the goal of the extrusion team is "to provide rapid and accurate responses to the needs of sheet, film, and profile goods manufacturers." "We want to provide the same quality compounds and technical support to these material processors for which RTP Company has long been known among the injection molding community," he said.
Creissen notes that sheet, film, and profile extruders have different sampling requirements than those of injection molders. The extrusion process itself requires a larger sample than does injection molding to prove a prototype material successful. Having in-house access to bench-top size extruders makes data collection and customization of formulation iterations a quick and cost-effective process for RTP Company. Creissen says, "Other lab-scale extrusion units allow RTP Company to go from an idea, through material evaluation, and into samples fast enough to give our customers a competitive advantage, without using any of their own machine time."
Additional RTP Company strengths include quality and analytical capabilities specific to the needs of extruded goods manufacturers. Melt strength, filler dispersion, and other quality assurance data can be verified, allowing any material modifications necessary to be performed before the customer ever sees a sample. Secondary operations such as bonding, painting, and laser marking can also be demonstrated with materials generated by the lab.
The dedicated extrusion team consists of engineering and support staff who are experienced in six key areas of product development: structural, wear resistant, conductive, flame retardant, precolored, and elastomeric materials. Creissen adds, "The customized compounds we supply to injection molders are now available to profile extruders, thermoformers, wire and cable makers, and tube, rod, and stock manufacturers. Not only are the products available, they come with the full support and the specialty compounding experience of RTP Company."