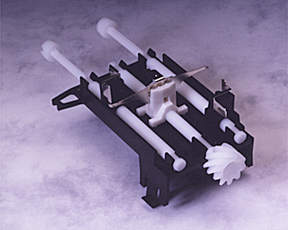 Incorporating innovative features in their openers to make installation easier is nothing new for Chamberlain Group, Inc., the world's largest manufacturer of garage door openers.
One feature found in their Lift-Master and Chamberlain product lines is a limits adjustment switch. The switch allows adjustment of the door's open and closed positions from a central location. Other openers require the use of position stops along the trolley rail.
The switch's contact carrier was originally made of ABS. Chamberlain determined the combination of the ABS carrier running on a molded acetal screw didn't meet long-term wear resistance and close tolerance requirements. Chamberlain, along with molder Nyloncraft of Kentucky and RTP Company, determined the material requirements to improve the wear life, without sacrificing the existing tool.
A lubricated RTP 300 Series (polycarbonate) specialty compound for wear and lubricity was selected after extensive testing to confirm product life and processing ease. This material exhibits excellent resistance to wear and abrasion along with shrink characteristics similar to ABS.
The material change was successful and ongoing reliability testing shows significant improvement in product life, according to Chamberlain.
Nyloncraft of Kentucky is a full-service injection molder specializing in close-tolerance molding of intricate parts. Located in Bowling Green, KY, they serve the marine, automotive, consumer and other markets.