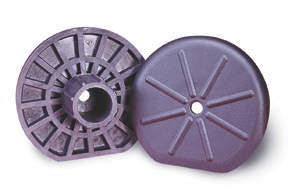 Manufacturers and shippers around the world rely on the growing family of Mettler-Toledo scales. The new 8270 Series scale, which handles up to 150 pounds, meets stringent international CSA and UL standards for accuracy in weights and measures.
Bumper guards under the platter provide dampening for loads dropped on the scale and remove static charges that build up on the platter. The static dissipative compound prevents shocks, which could damage the scale or cause discomfort for the operator.
The search for lower-cost bumper guards led Mettler-Toledo to RTP Company?s engineering team. Hoping to replace transfer-molded rubber while maintaining ESD protection, the companies worked together to develop a unique compound using styrenic-based thermoplastic elastomer.
The compound offers elasticity comparable to rubber, with a Shore Hardness of 60-70A. Volume resistivity of 100 ohm-cm and surface resistivity of 1000 ohms/sq. provide ample ESD protection for the application. "We were looking for a less expensive material and process that offered equivalent Shore A hardness and static removal properties. RTP Company compounded a material that met these requirements and provided a superior level of quality," said Jeff Preston from Mettler-Toledo.
The bumper guards are injection molded by Acrotech Southeast, Inc. "We tried to formulate something ourselves with carbon black," explained Rodney McGill, Customer Service Manager for Acrotech Southeast. "What a mess. It was easier to let the experts at RTP Company compound the material for us?it?s what they do best. We're very pleased with their quick turnaround."
Mettler-Toledo, Inc., is the world's largest manufacturer and marketer of weighing instruments for use in laboratory, industrial and food retailing applications. Corporate Headquarters are in Greifensee, Switzerland. Contact their Inman, SC, facility at 864-472-2051. Acrotech Southeast, Inc., is in Spartanburg, SC. Call 864-583-2752.