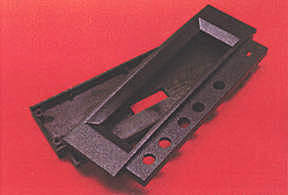 IBM Storage Systems Division in Tucson, AZ and RTP Company teamed-up to find a specialty compound ideal for front and back covers of the IBM Magstar Tape Drive operator/service display panel.
The material chosen, previously developed by RTP Company for an unrelated IBM project, achieves a volume resistivity of 100 ohm-cm (max.). Since the display is an exterior component, the material needed to be flame retardant. It exhibits UL 94 V0 at 1/16 -inch.
The covers, molded under strict standards, house electronics which are sensitive to radio frequency interference (RFI). The housings keep drive-based RFI from reaching display components and the display cable.
Product engineers considered various options to shield the display including sprays and other "liners." These added materials would increase expense and not allow for recycling of the housings. The RTP Company material provided all of the needed properties, while remaining recyclable.
The display's front and back covers, which are screwed together, are electrically grounded to the tape drive through a stainless steel spring. The spring and the characteristics of the cover material provide the RFI shielding necessary to meet FCC Class B requirements while reducing susceptibility of the drive and display to electrostatic discharge (ESD)and external RFI.
The Magstar Tape Drive features a 10-cartridge Automatic Cartridge Facility, functioning as a mini-library with over 300 GB capacity (compressed). The Magstar drives can be rack mounted in various configurations depending on storage requirements.