Polycarbonate Compound Improves Mechanical Properties Over Metal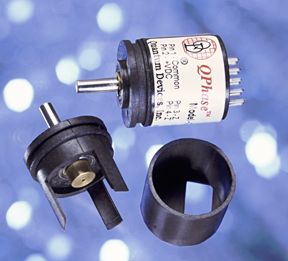 High performance optical encoders convert mechanical rotary motion in motors, shafts, and conveyors into electrical signals that are monitored by computers. Operating in noisy industrial environments makes the encoder electronics susceptible to electrical interference that can disturb the signals and cause equipment failures.
When Quantum Devices, Inc., set out to replace traditional machined aluminum rod or bar stock in their encoder housing, they turned to RTP Company. "We've worked with RTP folks since the early 70's when we pioneered work on emerging applications of PPS/carbon fiber compounds," said Charles Kirk, Polymer Engineer. "Even then, their material molded well and had excellent physical and electrical properties."
Quantum designed an encoder that delivers high performance, high-resolution digital feedback in a very small packet. An RTP 300 Series polycarbonate specialty compound with carbon fiber reduces part weight, improves thermal and mechanical stability, and offers critical EMI shielding properties.
"Electric motors are notorious for creating interference," said Jim Stevens, Electronics Engineer. "We were looking for a combination of properties in a single material that would not only provide the same level of conductivity as metal, but would also enhance the mechanical integrity."
The compound has a low thermal coefficient of expansion compared to aluminum. This stability facilitates proper insertion of bearings and ground connectors. And, the compound is a cost-effective alternative to metal.
Quantum's new optical encoder is just 20mm (0.787 inches) in diameter, yet provides the resolution of larger encoder packages.
Quantum Devices, Inc., "improves the quality of life through the power in light". Its manufacturing facility and captive molding division, Quantum Mechanics, are located in Barneveld, Wisconsin. Contact them at (608) 924-3000 or www.quantumdev.com.