End-Use Case Study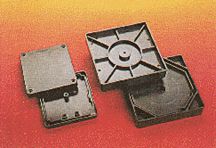 Static buildup in the film processing industry is a constant problem. Dust particles attracted to film are one concern. Film jams and film-exposing sparks are others. RTP Company's PermaStat® 600 FR, a permanently antistatic ABS compound, is the material of choice for end caps used in a film cartridge by ECRM of Tewksbury, Massachusetts.
The cartridge, a black, 4 inch square aluminum tube with PermaStat® 600 FR molded end caps, is used to receive photographic film that has been exposed by an ECRM ScriptSetter® VR36 machine. The ECRM machine is a format color film output machine. Pre-press files generated on a computer are printed to film in the machine, and transported into the light-tight film cartridge. The film is then removed from the cartridge and developed prior to being used for making a printing plate.
The primary benefit of PermaStat® 600 FR for the end caps is its static dissipative characteristics. As the film is pushed into or pulled out of the cartridge, static charges can develop. If not dissipated, this can cause film jams or static discharges that could create a spark, exposing a strip of light which is revealed on the film. In addition, these conductive characteristics allow the cassette to be grounded to the machine.
Since the photographic film used in this application is extremely sensitive to light, the part is black and opaque.
The molder is Plastron of Westfield, Massachusetts.