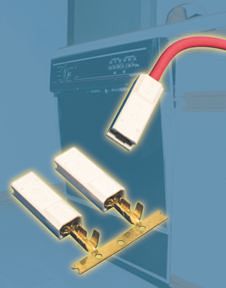 Not long ago, field failure fires ? caused by improper crimping ? prompted the appliance industry to sit up and take notice. The nylon that was used to insulate electrical connectors was catching fire, dripping, and spreading the fire to other elements. Today's leader in preventing those fires is ETCO Incorporated, a manufacturer of open barrel "F" crimped terminals in Warwick, Rhode Island.
ETCO pioneered the open barrel "F" crimped insulated connector that features a flame retardant, glass-reinforced nylon compound from RTP Company. Instead of melting and dripping when a malfunction occurs, the compound collapses on itself and safely holds its shape until the appliance completes an automatic shut-down. The flame-retardant material is classified as V-0 per UL 94 flammability tests.
ETCO's connectors are unique. By using a metal carrier instead of traditional plastic, the company produces large reels of connectors using a high speed metal stamping process. "A flame retardant nylon is not flexible and cannot be used as a carrier for connectors," said David Rheault, ETCO Sales Manager. "Combining the RTP Company compound with a metal-carried product gives us reliability, product flexibility, and increased production. It also improves our customers' in-house terminating speeds. RTP Company's engineers worked closely with us to develop the material and get us samples," Rheault continued. "We now have a superior 'F' crimped connector, guaranteeing excellent dielectric performance while conforming to our customers' demands for flame retardance at an economical price. It's the final stopgap measure for appliance manufacturers who are now converting to flame-retardant materials throughout their products."
ETCO Incorporated of Warwick, RI can be reached by calling (401) 467-2400, or visit their website at www.etco.com.