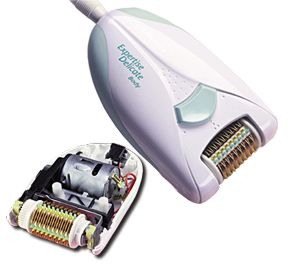 When Calor, S.A. in Lyon, France, set out to reduce the noise and vibration in its Expertise Delicate "epilateur" (hair remover), it turned to RTP Company's Beaune, France, plant. Two specialty compounds meet these requirements and reduce production costs:
RTP 4500 Series Compound Containing Reinforced Carilon? Polymers
This high temperature compound, with an HDT of 250 degrees F (122 degrees C), lowered part costs by replacing sintered bronze on the internal supports for the cutting wheel. The compound is subjected to high speed rotation from stainless steel wheels and axles, requiring the superior wear resistant properties of aramid fiber. Lowering the wheel's coefficient of friction also lowers the engine's electrical consumption and reduces noise and vibration. Other benefits include good chemical resistance to creams.
RTP 2700 Series Styrenic-based Thermoplastic Elastomer Compound
This compound is overmolded to an internal part that supports the epilateur head. Previously, the part was coated with butyl gum to reduce vibration and noise emission. Applying the gum raised labor costs and required special equipment that frequently clogged and failed. RTP Company's engineers developed the elastomer compound to bond well with the glass-reinforced nylon 6/6. It features a hardness of 84 Shore A.
CALOR S.A. – ROWENTA (member of the SEB Group: T-Fal, Calor, Rowenta, Tefal, SEB, Arno brands) is located in Lyon, France. Contact them at +33-4-78-78-66-66.
Molder VP-PLAST in Morteau, France, produces the RTP 4500 Series part. They can be reached at +33-3-81-67-44-00. Molder PLASTIM in Montagneux, France, produces the RTP 2700 Series part. Call them at +33-4-74-97-48-36.
Carilon? is a trademark of The Royal Dutch/Shell group of companies