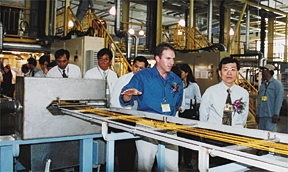 RTP Company recently announced that it will open a manufacturing, technical center, and customer support facility in Singapore in April of this year. The Singapore operation, located in the Jurong Industrial Estate, will do business as RTP Company (Singapore) Pte Ltd., and is a wholly owned subsidiary of RTP Company.
"It's been a long standing RTP Company goal to have a plant in Asia, and I could not be more pleased with our Singapore facility. From it we will be able to better serve our Asian customers and we will have a much stronger presence in the region. This is, truly, a dream come true!" stated Hugh Miller, Chief Executive Officer.
As with other RTP Company facilities in the United States and Europe, the Singapore location will offer a full complement of customer support, as well as state-of-the-art manufacturing capabilities. On-site product development, customer service, and technical service staff will also be available to immediately meet customer needs. Wilkin Tang has been hired as the General Manager of the Singapore site. Additionally, Go Piang Wee recently joined the company as Southeast Asia Sales Manager.
RTP Company began its global expansion plan in 1995 when it acquired a manufacturing location in Beaune, France. Since then four European sales offices have been opened in Denmark, France, Germany, and United Kingdom.
RTP Company (Singapore) Pte Ltd.
3 Tuas South Street 3
Jurong Industrial Eastate
Singapore 638045
Telephone: +65 863-6580
Fax: +65 863-2018