End-Use Case Study
Reinforced nylon offers excellent impact strength
Replaced aluminum with lighter weight and lower cost material
Consolidated part design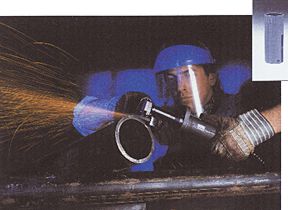 Performance and cost improvements for a line of finishing tools brought RTP Company and Ingersoll-Rand together. Designed to meet the special needs of the shipbuilding and repair industry, the housing and handle of the Cyclone Series grinders were originally made from polished aluminum. Design limitations, fabricating problems and high costs of the old model led to a search for a better material.
RTP Company worked closely with the molder, Phillips Plastics, New Richmond, Wisconsin, to custom formulate a compound that would meet the performance and cost objectives. Impact resistance and corrosion resistance are important for withstanding continuous wear and tear of the harsh shipyard environments. The glass fiber-reinforced high impact nylon has an outstanding 4.1 notched and 17.0 unnotched IZOD impact strengths. The functions of many original metal parts became molded-in features in the new plastic design and dramatically shortened the assembly time of the tools. The grinder's patented "drop in" motor requires no alignment or shims and vanes can be removed and replaced quickly. The result is less downtime and lower costs.
Smaller and lighter in weight than the aluminum originals, the unique shape and textured surface make it easy to grasp and maneuver. Operators can work more comfortable and productively because the design and the material reduce vibration, noise, hand fatigue and the cold feel that is associated with the former aluminum housing.