End-Use Case Study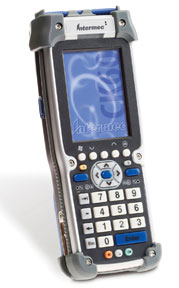 Whether on the road, in the field or on the factory floor, handheld computers from Intermec can provide mobile workers with reliable tools that meet the rugged demands of harsh environments and extreme daily usage. Intermec products must be able to withstand vibrations, temperature extremes, as well as hard impacts throughout the day.
When designing its new CK60 mobile computer, Intermec chose RTP Company to engineer a number of custom compounds to meet its demanding requirements, which includes rigorous drop testing and tumble testing to ensure product life.
RTP Company formulated custom compounds for several components in the CK60, including multiple colored keycap parts, a rigid substrate for the hard shell outer case, and a thermoplastic elastomer (TPE) for side grips and corner bumpers.
Color Keycap Parts
The first challenge Intermec presented to the engineers at RTP Company was to create multiple colored, translucent compounds that needed to be laser etched for keycap parts in a variety of colors. Not only did the materials need to be rugged, they had to strike an ideal balance between color intensity and opacity so that light could shine through the material with perfect diffusion and transmission. RTP engineers responded by custom formulating multiple pre-colored RTP 300 Series polycarbonate compounds in varying degrees of intensity.
"It is important that the keypad of our CK60 mobile computer perform well in both ambient and backlit conditions. We were able to use RTP Company's full-service Coloring Facility to accomplish the challenging task of meeting our color saturation requirements while balancing the transmissive performance of the backlit material," noted John Bandringa, Director of Corporate Design at Intermec. "Working together at the RTP headquarters, RTP colorists provided us with real-time color engineering across six different base colors, resulting in up to eight adjusted formulations per color. We reached the desired balance of color accuracy, translucency, and laser marking contrast in less than 2 hours per color."
Flame Retardant Rigid Substrate in Outer Case
The next step for RTP was to formulate compounds for the ergonomic outer case which was sculpted and balanced for user comfort and long-term use. An RTP 300 Series flame retardant polycarbonate compound was selected for the hard shell, which required a balance of impact resistance, strength, and flame retardant properties with accompanying UL recognition.
Soft-Touch Material On Side Grips and Bumpers
Intermec then specified a pre-colored RTP 6000 Series thermoplastic elastomer (TPE) overmold on the corners and side bumpers of the CK60. Here too, the material needed to be rugged enough to offer protection from impact and drop forces. Tear strength and durability, as well as outstanding bond strength, were required. Meeting these challenges, the compounds passed Intermec's rigorous testing procedures by being dropped 26 times on all surfaces and corners at specified drop heights.
Personalized Solutions, Superior Service
The combination of expertise in both the rigid substrate and the soft-touch material enables RTP Company to work with customers, such as Intermec, to optimize the combination for overall performance. Intermec used several of RTP's diverse technologies, ranging from advanced color technologies to innovative TPE solutions.
"RTP Company has an outstanding breadth of products and provides excellent service," said Ryan White, Mechanical Engineering Manager at Intermec. "Our computer required multiple specialty compounds and I was able to contact one person at RTP to get everything done."
Intermec is a leader in global supply chain solutions and in the development, manufacture and integration of wired and wireless automated data collection, mobile computing systems, bar code printers and label media. For more information, visit their website at www.intermec.com.