Edge Glow Compound Lights The Path To Success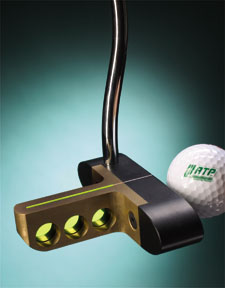 For most athletes, perhaps the most prized competitive skill is well developed hand-eye coordination. If you don't believe it, try putting a dimpled white ball into a hole from just three feet away. While being watched. For money!
Just such a scenario arose while Ram, Inc. engineers were discussing a program involving lighted sights on a shotgun. Successful in the manufacture of a visible sight using a light emitting glow-in-the-dark compound from RTP Company, they transferred the concept to the putting green. Ram designed a new Peek-A-Boo putter that incorporates a light emitting guidance system that draws the eye to align the putter, steadying the head, and allowing the golfer's hands and eyes to act in unison.
Ram's manufacturing manager, J.D. Rutledge, again looked to RTP Company for material selection assistance. Subject to the rigors of a golf course (and the occasional, missed "gimme," or frustration-fueled fling at a tree) the putter material needed to be tough. Varying weather conditions meant low water absorption and exceptional dimensional stability through a range of environments were critical properties. Most importantly, the material had to emit a steady, defined line of light. An RTP 300 Series precolored polycarbonate compound using an edge glow color effect was recommended to Ram for this application.
Edge glow compounds make use of dyes that absorb UV light and re-admit that energy in longer wavelengths. Effectively, changing non-visible light to a visible wavelength. Internal reflection within the compound refocuses the light, emitting it more intensely along edges, thereby creating a glowing effect. The edge glow dyes used by RTP Company are completely soluble and distribute evenly within PC, acrylic, SAN, GPS, and clear ABS compounds. Both heat and light stable, they have no appreciable effect on either processing or performance characteristics of the original resin.
Ram makes use of the edge glow properties by installing a sight into an aluminum clad putter. Manufactured with holes in the side, allowing light to penetrate and be absorbed by the thermoplastic. The light is then emitted along the edge of a 0.04 by 2.0 in (1 by 50 mm) polycarbonate insert, producing a lighted, straight focal point for the golfer. "The material is key to the putter's success. In one shot, we've been able to combine both structural requirements and the light emission function," according to Rutledge. "And for a custom material, they got it to us within the promised lead time," he continued, "We've come to expect that from RTP Company; it's pretty much par for the course."
Ram, Inc. is a custom and captive products molder located in Cisco, TX. For more information, visit their website at www.raminc-cisco.com.