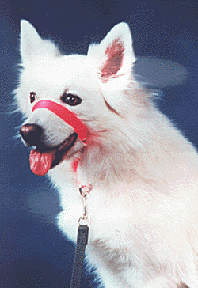 Controlling canine behavior is a matter of guidance, not firm-handed discipline, according to Robert K. Anderson, DVM and professor at University of Minnesota. He and associate Ruth Foster, developed the Gentle Leader® natural behavior management system for use with dogs of all ages.
The Gentle Leader®, patented by the University of Minnesota, is designed to keep canines focussed on their handler's wishes, while gently guiding dogs through new behaviors and the related commands.
Developed in the late 1980s, the device is securely fastened around the dog's neck, nose and lower jaw to provide natural, instinctive control.
"Unlike choke collars and other devices, the Gentle Leader does not inflict pain to alter behavior. In fact, comfort is a key to its effectiveness," says Dr. Anderson. "The head collar is extremely effective in managing the behavior of difficult-to-control canines, as it takes advantage of a dog's natural instincts.
"Gentle Leader is not a muzzle," he says. "A dog may open its mouth to eat, drink, bark or fetch, except when the handler pulls the leash. This stops the unwanted behavior to prevent barking, jumping, lunging and chewing."
While the Gentle Leader® is passive in nature, dogs can exert tremendous force through their legs and jaws. For instance, a grown German Shepherd's jaw can place 1,200 psi on an object. When it came to finding a strong, tough plastic for the Gentle Leader's adjustable clip, the University of Minnesota team turned to RTP Company.
The adjustable clip features gripping teeth which penetrate the woven strap of the head collar. The structural demands on the small assembly are extreme.
"RTP Company took the time to develop different formulations as we honed in on our specific needs," says Dr. Anderson. An RTP 200 series (nylon) specialty compound was formulated to achieve multiple properties.
The proprietary material exhibits a tensile strength of 32,000 psi and a flexural strength of 45,000 psi. The clips are molded by Mikros Engineering of Brooklyn Park, MN.
For details about the Gentle Leader® head collar, contact Premier Pet Products at 800-933-5595.