PC/Acrylic Compound Combines Flame Retardance, Impact Strength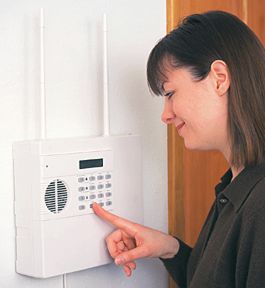 Three years ago, when engineers at Interlogix, Inc., read the newly-revised European regulations for home security systems, one thing was evident: They were nondescript. "All the European countries are trying to standardize, and instead of well-defined specifications, we were seeing terms like 'sufficiently robust'," explained Jim Kreier, Mechanical Design Engineer with Interlogix. "How do you select a material that meets such a vague description?"
Interlogix decided to stay with its previous set of stringent structural requirements and incorporate the new flame retardant specifications to ensure their product would continue to be marketable throughout Europe. That led them to RTP Company for a custom specialty compound that would provide exceptional flame retardant and impact resistant properties.
The home security system is wall mounted and contains an internal 220-volt power supply. An RTP 1800A FR Series polycarbonate/acrylic compound was selected for the housing because of its excellent physical properties and superior flame retardance.
The compound features a UL 94 V-0 flammability rating at 1/16 in (1.5 mm) in all colors. The material also passed UL's most stringent certification for small-scale components of 5VA at 0.087 in/2.2 mm.
The compound provides important impact resistance to protect users from accidental contact with the power supply if the unit is dropped or damaged. The material features unnotched IZOD impact strength in excess of 35 ft lbs/in (1869 J/m) at 1/8 in (3.175 mm). Flexural strength is 12,000 psi (83 MPa), and tensile strength is 7500 psi (52 MPa). The compound is precolored white to meet European consumer preferences.
Interlogix Security and Life Safety Group is located in North St. Paul, Minnesota, and specializes in designing and manufacturing security systems. Call them at 651-779-4800 or visit their website at www.interlogixinc.com.