Airline Computer is Made Possible with High-Strength, Custom-Colored Compounds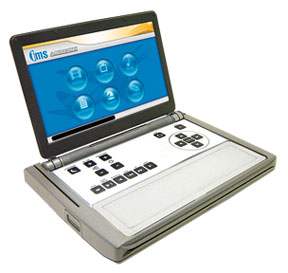 Commercial airline passengers have adjusted to many changes: reduction in airline services, heightened security, and frequent delays. However, there is one change that passengers will take pleasure in — increased personal entertainment options thanks to the exciting advances of Innovative Media Solutions (IMS).
IMS introduced the Personal Entertainment Appliance (PEA) to provide airline passengers with wireless, lightweight and easy access to a range of entertainment options. It is the first handheld in-flight entertainment device to offer current technology by reconfiguring, or repurposing, existing computers.
In order to make the PEA suitable for flight, an advanced thermoplastic enclosure was required that is custom color-matched to the airline's exact color schemes. IMS partnered with international moldmaking and molding company, Kenzymi Precision Limited, and utilized RTP Company's global custom compounding services to formulate the material.
"Because the compounds were being developed and approved at IMS, then manufactured to that specification in Hong Kong, being able to rapidly match the colors in North America and execute the molding in Asia was key to this project's success," said Jim Mahon of Kenzymi. "We linked up with RTP Company because of its global footprint."
Requirements for the compound were multi-faceted. It had to be extremely durable to withstand the rugged handling of both aircraft personnel and passengers. Addressing FAA safety and flammability standards were also critical. RTP Company responded by formulating a precolored RTP 2500 Series PC/ABS alloy compound with high impact properties, chemical resistance, flame retardancy, and UL recognition.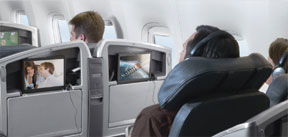 PC/ABS compounds provide significant benefits in applications requiring high strength, such as the PEA. The high heat distortion of the alloy is an improvement over ABS, while the low temperature impact resistance gives it an advantage over polycarbonate.
To ensure worldwide acceptance of IMS's product, RTP Company's design team proposed a bromine/chlorine/heavy-metal-free compound, which complies with the most stringent HES (Human and Environmental Safety) legislation regulating the global marketplace.
"RTP Company made the developmental process painless by responding very quickly with color matching options and by being uniquely positioned to meet our global requirements because of its manufacturing capabilities in Asia," said Mahon. "They strived to make this project a success and their reaction was efficient and flawless."
IMS bypassed the traditional qualification process that could take up to two years because the PEAs are portable. By the time permanent computer products are usually to passengers, the technology is invariably outdated, and appears archaic.
"We're not bolting the PEA to the aircraft so we could be more nimble during development," said Rod Farley, President of IMS. "Our RTP Company representative really got involved in understanding what we were trying to accomplish and gave us rapid, personalized service during development. This new concept has since become a breakthrough product and passengers can now access the same technologies in-flight that they have at home."
IMS In-flight Entertainment and Communication (IFE) systems business focuses on emerging mobile and wireless technologies. Establishing itself as the leading independent IFE engineering firm, IMS serves aerospace OEMs and airlines around the world. www.imsconsultants.com.
Kenzymi was founded in 1994 primarily as a multi-shot, insert-molding, and large tonnage molder and services multi-national customers from the facilities in North America and Asia. For information, call +852 2341-8192 or (714) 329-0855 in North America.