End-Use Case Study
Elastomer Material Protects Controller Electronics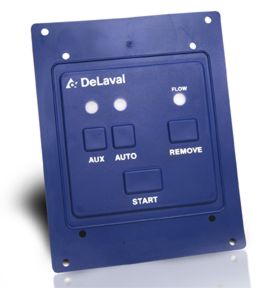 According to Corky Stanley, Rofshus Precision Machine of Albert Lea, MN has been in existence since about the time "Plastics, my boy, plastics" was first advised as the career of choice in the movie The Graduate. Around the same time, DeLaval, Inc. offered this similar advice to dairy herds everywhere: "Automate, ladies, automate."
DeLaval drives progress in milk production by providing systems and management equipment to increase a farmer's efficiency and a dairy herd's yield. DeLaval's MP370 and MP380 milking points are electronically controlled vacuum systems that automate milking chores.
Agricultural environments are unforgiving. Milking parlors undergo regular cleaning and sterilization often with harsh chemicals, and humidity and temperature changes frequently. Organic—well, matter—is abundant. When DeLaval experienced failure of internal circuit boards, they suspected moisture as the culprit. Although the incidence rate was lower than industry norms, they thought it was unacceptable. When investigation exposed that a leaking seal on the control box was the fault, DeLaval and Rofshus worked together to redesign the box using a better sealing material.
The control box is sealed with a keypad; a membrane flexible enough to depress internal push buttons, yet strong and capable of sealing out the elements. For brand identification and legibility, a deep, blue color was specified. The material had to be bonded to plastic lenses for indicator lights and printed with highly readable identifiers for the buttons. A silicone material was tried and successfully held out moisture, but color was lacking and the printing rubbed off. Rofshus's experience with using customized plastics led them to RTP Company again for a better solution.
RTP Company formulated a precolored 60 Shore A durometer, fatigue-resistant RTP 2800 Series polyolefin thermoplastic elastomer compound in DeLaval's signature reflex blue color. The compound stays flexible to -70 degrees F (-57 degrees C) and is resistant to both acids and bases. The "soft touch" material lays nicely to form a seal with its mating surface and successfully holds out moisture. Molded in holes create a sort of mortise for tenons from the lenses, which are insert molded, fastening them both mechanically and chemically to the surrounding material. Jill Sikkema of DeLaval likes both the feel and the effect. She credits the material with providing a "more flexible interface between the user and the circuit board that completely seals the control box."
Stanley cited some forward thinking by RTP Company engineersÑif printing method changes are warranted in the future, the material can be laser marked instead of printed with button operation information. He also praised RTP Company's speed of service. "Before I could line up a printer on my own, they had samples made, printed and delivered to me," he said.
Injection molder Rofshus Precision Machine of Albert Lea, MN, can be reached at (507) 377-2009. DeLaval, Inc. manufactures milking systems and herd management equipment. For more information visit their website at www.delaval.com