High Temperature Compounds Meet Lead-Free Soldering Challenges in the Electrical/Electronic Industry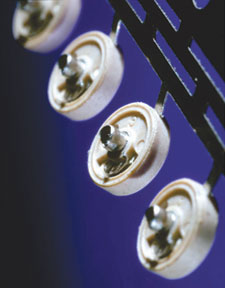 This Molded Rotor component by Accumold meets the demanding high temperature requirements for lead-free soldering. RTP 3400 Series Liquid Crystal Polymer compound was selected for this challenging application which involved shutting-off around the lead frame without interfering with the function of the part. To mold this component, Accumold built two 8-cavity systems with 100% fiber-optic inspection.
Around the globe, governments debate the dangers that lead poses to the environment. In the Electronics Industry,manufacturing techniques involving lead-bearing solders are under close scrutiny. Environmental concerns originating in Europe resulted in legislative directives (WEEE and RoHS) calling for the elimination of certain substances deemed hazardous ? including lead ? from most electronic equipment starting July 2006. Although regulations are in their infancy in the United States, many companies are seeking lead-free soldering alternatives now to stay competitive in the global marketplace.
The primary challenge in this transition is adapting to the higher temperatures that are required in the lead-free soldering process. Components exposed to lead-free solder alloys must be capable of withstanding temperatures of 260 °C or greater. Impacted the most by this requirement are the thermoplastic materials in connectors and board level components such as capacitor housings and potentiometers. As a result, high temperature thermoplastic technology has become a critical factor in product design.
Accumold, a manufacturer of systems and components using high temperature thermoplastics, has taken a proactive stance on this hot issue. "We not only have to be on the leading edge of technology with the pending regulations, we have to be on the bleeding edge," proclaimed Mitch Carlson, Vice President at Accumold. "We rely heavily on RTP Company's expertise in resin technology when selecting materials for such demanding requirements."
RTP Company's independence combined with an expertise of modifying high temperature resins with reinforcement and additive technologies allows the company to offer, with complete objectivity, custom compounds formulated for exact performance criteria that will meet the new lead-free directives. The table shown here demonstrates the comparative properties of high temperature compounds suitable for lead-free soldering including: VICTREX® PEEK?, LCP, and HTN to name a few.
"RTP Company has earned Accumold's business by providing ideal solutions specifically for our requirements," said Carlson. "I keep their product information in my briefcase along with my own company's information when developing programs with our customers."
Accumold designs and fabricates complex micro-molds and small molds/insert molds for some of the world's leading companies. They provide world class service and quality to a variety of industries worldwide that include: General Electronics, Automotive Sensors, Fiber Optics, Medical Applications, and Military. For more information, go to www.accu-mold.com.
PEEK? is a trademark of Victrex plc