RTP Company's Booth #7805: North Hall—Lower Level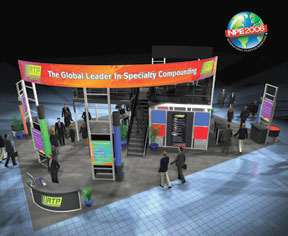 Mark your calendars and start planning now. From June 19-23, 2006, visit RTP Company at the largest trade event dedicated to the plastics industry in Chicago, IL — NPE 2006.
The aroma of fresh-baked chocolate chip cookies will draw you to the RTP Company booth, but the technology will coax you to stay. Leading-edge applications will be displayed at each of the Innovation Stations.
A hand-picked group of highly skilled engineers and representatives will be available to answer your questions. Whether it's an inquiry regarding a current project or a new application, our staff will lead you on the right path.
Call your local RTP Sales Engineer or go to www.rtpcompany.com and make an appointment to view a VIP presentation at NPE 2006. Or, stop by our booth anytime during NPE and let us combine our imagination and engineering expertise to imagineer a solution for you!
RTP Company's NPE 2006 Innovation Station Highlights:
Multi-Technology Solutions
New product and technology launches at NPE 2006:
NPE Innovation Station: Conductive Technologies
Tailored to span the surface resistivity spectrum from 101 to 1012 ohms/sq., custom compounds can be tuned to receive the exact degree of conductivity required for your application, whether it is anti-static, static dissipative, or conductive. Our impressive portfolio of conductive technologies includes:
PermaStat®
Offers permanent anti-static properties that won't migrate or bloom to the surface of the part.
PermaStat PLUS®
Advanced electrical properties make these compounds highly effective in meeting requirements mandated by ATEX 94/9/EC.
Nanotube Compounds
Delivers conductive properties at very low loadings and reduces residual voltage.
Visit our Conductive Innovation Station and discover how our technologies can be ideally customized to your specific applications.
NPE Innovation Station: Application Development
Material Selection
Developing the ideal formulation for the job is the cornerstone of our success at RTP Company. Our customers depend on our unbiased, innovative thinking and attention to detail to meet their compound material needs.
Global Technical Service
Technical support specialists work directly with you during molding trials and production runs, providing expertise in processing, molding design and troubleshooting.
CAE Design
Computer-Aided Engineering (CAE) Support Services assists customers with technical design issues utilizing state-of-the-art CAE tools for composite materials in both structural and moldability analysis.
See samples of MoldFlow® analysis programs on our interactive display at our Product Development Kiosk.
NPE Innovative Station: Specialty Sheet
RTP Company's Sheet Division's state-of-the-art sheet extrusion equipment is coupled with the technical expertise and library of formulations that have been developed over the past 20 plus years for the injection molding market. Customized sheet formulations are possible for conductive, flame retardant and various specialty applications such as those requiring high temperature, wear resistance, or a unique color.
Visit the Specialty Sheet Station to see innovative applications, including speaker cones, and discuss your unique application with an RTP Company expert.
PermaStat PLUS® is a trademark of RTP Company.
UniColor® is a registered trademark of RTP Company.