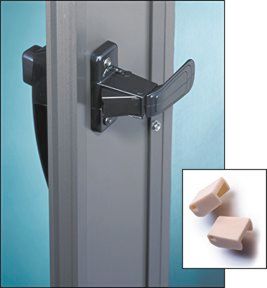 For years, Wright Products of Rice Lake, Wisconsin, has been manufacturing heavy duty storm and screen door closure mechanisms that are painted to match popular door colors. With the array of colors required, it was difficult to custom color the plastic in the molded latch bolts.
"We've always used an impact modified nylon for the bolts, but it wouldn't attract paint well," said Lindsey Gifford, Vice President Marketing & Sales at Wright Products. "The coverage was blotchy, and it generated complaints in the field." The problem was static discharge caused by the same negative ion charge in the electrostatic paint and the nylon. The bolts repelled the paint much like similar poles of a magnet.
Thermal Plastic Design, which produces all of the bolts for Wright Products, called on RTP Company for a conductive specialty compound that would attract paint particles without using a conductive primer. The compound also needed to maintain mechanical properties in cold weather
An RTP 200 Series nylon 6/6 compound filled both demands. The material exhibits volume resistivity of 109 ohm-cm, yielding paint transfer efficiencies similar to metal with a smooth paint coverage that matches the finish quality of the adjoining zinc, steel, and plastic latch components.
Wright Products manufactures door latches in several sizes and models. Contact them at 715-234-7077 or visit their website at www.wright-products.com.
Thermal Plastic Design, Inc., (TDI) is a precision custom molder specializing in close tolerance engineered materials located in St. Croix Falls, Wisconsin. Contact them at 888-255-4012 or visit their website at www.tdimolding.com.