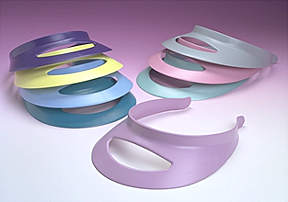 Demand by medical and dental professionals prompted Op-d-op, Inc. of Roseville, CA to develop a protective medical visor shield.
The visor and attached shield is placed over the head and worn during operations, exams, and routine dental work. The visor is intended to protect health professionals from contaminating elements.
Since its introduction in 1985, the application has grown in popularity. The device is now utilized in medical institutions all over the world.
A precolored ABS material was used in the visor portion of the device. The tough, RTP 600 Series material was chosen for the application to provide impact strength, high gloss, ease of processing, and an economic advantage.
RTP Company colorists developed a variety of colors for the device from peach to teal, far exceeding the initial demands of the application.
Cal-tron Corp. of Bishop, CA was the molder involved in the project. Karen Leatham, Operations Manager at Cal-tron, chose RTP Company for the excellent history of working together. Leatham notes, "We try to use RTP Company for most projects, and we always go to RTP when we need a specialty compound."