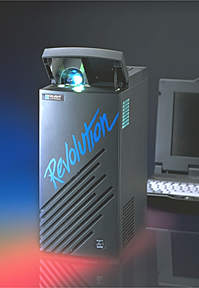 Sarif, Inc. of Vancouver, WA is a company based on innovative thinking. Sarif was established in 1994 to manufacture small, high-resolution active matrix LCDs for use in projectors and virtual reality headgear.
Sarif's Revolution LCD projector was the company's first product, incorporating powerful features in a compact, lightweight multimedia projector standing only 13.5 in. tall. The projector can be driven by a laptop computer, providing portable, high-quality imagery for use in sales, marketing, training, entertainment and other presentations.
The technology behind LCD projection serves the large-image format market, where previous cathode ray tube (CRT) technology had limitations including size, cost and portability.
One of the challenges this cutting-edge technology brings is extremely strict material requirements for projector components. RTP Company worked closely with Sarif and PolyCast, Inc., a close-tolerance molder located in Tigard, OR, to ensure material requirements were met and processability was maintained in spite of high levels of reinforcement.
The LCD carrier adapter in the projector is made of an RTP 1300 Series polyphenylene sulfide (PPS) compound. The compound's base resin features very high heat resistance and excellent physical property retention at elevated temperatures.
The projectors use polysilicone LCDs made with two sheets of quartz substrate which are bonded to the carrier adapters. The carriers are then attached to metal plates on a glass cube.
Various materials involved pose several challenges including adhesion. "The most critical aspect of the application is alignment," says Steve Brice, Sarif design engineer. "The slightest distortion could lead to misalignment, and the projected images would be unacceptable. This material's low coefficient of thermal expansion is critical to the application's success."
PolyCast, Inc. is a custom injection molder specializing in critical tolerance molding for numerous markets. They offer complete design, engineering, production and automation capabilities. For more information, call 503-620-9850.