Special Effects Inspire the Spectacular at Times Square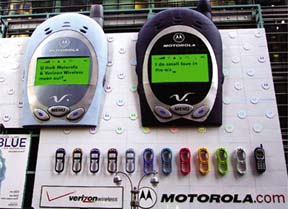 Times Square ? where spectacular signs are landmarks onto themselves. Extravagant visual effects on gigantic billboards are vital in creating the dazzling landscape of New York City's most popular locale. A Motorola billboard promoting its model V120 cell phone with Motorola PhoneWrap? covers certainly drew attention to its product offerings which utilized RTP Company's precolored compounds in their product design.
In developing the PhoneWrap covers for the model V120, Motorola Inc. used an RTP Company color development technology that demonstrated the dynamic chroma-shift color effect, which is formulated using a precise combination of pigments and dyes. A dramatic color shift between two contrasting tones occurs during this process resulting in a metamerism commonly called the chameleon effect. "This effect can be engineered using many technologies that vary greatly in cost," said Joe Cameron, Color Technology Manager at RTP Company. "We can provide maximum chroma-shift effects while minimizing the cost of the product." Achieving this special effect with precolored compounds offers processors major advantages over using a concentrate because the color is controlled at RTP Company. Regardless of the molder, color consistency is assured.
While Motorola chose to use special effect colors on their PhoneWrap covers, rapid development was vital to the project's success. RTP Company's state-of-the-art Color Development Lab has a long history of quickly developing programs for specific applications. RTP Company's library includes more than 50,000 matches in more than 60 thermoplastic resin systems. Standard production orders are shipped in just 5-10 working days. RTP Company can also provide invaluable information on color trends and combinations through our association and involvement with the Color Marketing Group.
Motorola utilized colorists at RTP Company in creating additional covers. Metallic effects completed Motorola's hard PhoneWrap offerings, and a wide range of soft PhoneWrap colors were developed utilizing RTP Company's elastomer technology. The elastomers were custom colored for specific material durometer at optimum cost effectiveness. "These innovative products demonstrate how RTP Company is setting industry standards in color matching," said Don Rogge, Business Development Manager at RTP Company. "It's our speed and sophistication that make RTP Company stand out."
Motorola is a global leader in wireless, broadband, and automotive communications technologies. For more information, visit their website at www.motorola.com.