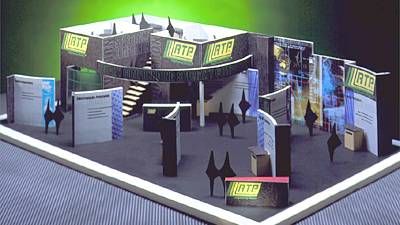 NPE 2000: Five Days that Shape the Future of Plastics is just three months away. Scheduled for June 19-23 at McCormick Place in Chicago, the show promises to help visitors envision the plastics industry as it will be tomorrow…to see and touch the materials, methods, and machinery that will shape new products in the next millennium.
Plan now to start your NPE visit with RTP Company. Our expansive, two-story booth is in Level 1 of the North Hall. Our "Innovation Stations" will highlight the latest advances in specialty compounding. Discover the advantage of our "World Class Engineering" as you interact with new technology through multimedia demonstrations, working applications, and material samples.
Here is what you'll find at just a few of our "Innovation Stations":
New color technologies:
Perform a real-time color match with the latest in spectrophotometer hardware and software. And, get a first-hand glimpse of the power of today's new colors, including chroma-shift, pearlescent, iridescent, and glow in the dark.
Nanocomposites:
Unlock the new possibilities of nanocomposites for injection molding and extruded sheet.
High gravity/platable compounds:
Feel the weight of various high gravity compounds and consider plating them to mimic the look and heft of metals.
High purity/conductive/wear resistant compounds:
Study hundreds of moving parts in a conveyor system whose rollers, bushings, and spools are made from RTP Company compounds.
EMI/RFI shielding compounds:
Manipulate extensive, new ASTM D4935 data on RTP Company EMI/RFI shielding compounds. Explore the impact of changing resin, additive type or concentration, and wall thickness on shielding applications.