Innovative Medical Compounds Require Experience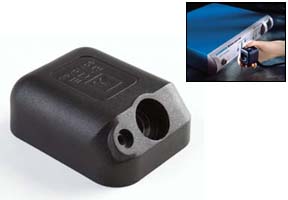 Smith & Nephew Endoscopy is a world leader in the growing market of minimally invasive surgery. Much of their success can be attributed to incorporating new technologies and designs into their product development process. One key element of the surgery is the camera that allows surgeons to see inside the body. Therefore, selecting the right material was essential when Smith & Nephew recently redesigned their ED-3 Camera Head.
After reviewing their requirements, an RTP 2203 HF (high flow) compound was chosen. The 20% glass reinforced PEEK (polyetheretherketone) compound not only provides a balance of flexibility and strength, but its higher flow characteristics offer faster cycling and better filling of thin wall sections. Inherently, PEEK offers outstanding chemical resistance, universal sterilization compatibility, and high temperature performance. Furthermore, RTP Company compounds based on PEEK? polymer by Victrex plc have successfully replaced stainless steel and other metals in medical applications.
"This PEEK compound has given us an edge over iodized aluminum in our new camera heads and we are able to achieve desired performance ratings, such as isolation from leakage current," said Steve Rayburn, Senior Manufacturing Engineer at Smith & Nephew. "It has increased chemical resistance and is compatible with the sterilization processes," said Rayburn. "It also allows us to refurbish and maintain used equipment with a like-new appearance."
Smith & Nephew partnered with nearby molder Sanmina-SCI. SCI's experience in molding high temperature materials, such as PEEK compounds, was critical. The ensuing teamwork between Smith & Nephew, RTP Company, and Sanmina-SCI resulted in a successful new product development. The redesigned product gave Smith & Nephew significant advantages over their original design. RTP Company was instrumental in formulating the high performance compound for their application. According to Rayburn, "RTP Company has unparalleled expertise in working with PEEK and additive technologies, so we relied heavily on them to develop our innovative PEEK compound."
Smith & Nephew is one of the world's leading medical devices companies, specializing in Orthopaedics, Endoscopy and Advanced Wound Management. For more information, visit their website at www.smith-nephew.com.
Sanmina-SCI is a leading electronics contract manufacturer offering comprehensive end-to-end manufacturing solutions to medical OEMs around the globe. For more information, visit their website at www.sanmina-sci.com.