Custom Materials Offer Multi-Property Solution For Card Printer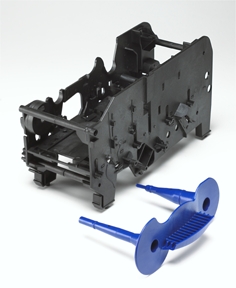 More than ten years ago, Datacard Group introduced digital card printers. Now corporations, government agencies, and other organizations rely heavily on Datacard identity solutions to protect people, property, and intellectual assets. By integrating digital imaging and smart card solutions with biometrics and other emerging technologies, they have developed card-based solutions that offer strong lines of defense against new and increasingly sophisticated security threats. When developing the new SP35 card printer, Datacard engineers sought materials with properties as exacting and varied as their card's applications.
Known for innovation and reliability, Datacard printers are subjected to thousands of printing cycles. The hardware contains mating surfaces that present challenges to the wear resistance of any material. Consolidation resulted in complex parts that required extreme accuracy?a slight error in device positioning can create havoc with printing or encoded electronic data. The design of their SP35 model requires three particularly challenging parts: a chassis, a cartridge holder, and a supply handle. All parts have shared requirements: strength and high rigidity, wear resistance and dimensional accuracy. As the chassis serves many functions, its molded shape is intricate and calls for a lubricated, high-flowing material. Furthermore, all parts require UL flammability ratings and some require ESD protection.
Datacard worked with RTP Company to find the right materials. The cartridge holder application required ESD, creep and wear resistance. Inherently lubricious, a reinforced acetal compound was originally specified to meet these performance demands. As acetal is highly crystalline, it is prone to warp?even when combined with carbon fiber?and, in this case, produced unacceptable parts. In response, RTP Company engineers custom formulated an RTP 2100 Series polyetherimide compound that combined carbon fiber with PTFE additives. With a flexural modulus of 1,000,000 psi (6890 MPa), this material gives a rigid and dimensionally accurate part. Consistent shrinkage and a low water absorption rate ensures that it stays that way. According to Art Paulson of Datacard, "The compound's use of PTFE additives aids in processing and reduces wear simultaneously. The carbon fiber provides the necessary structural properties and ESD protection."
The ribbon supply handle is molded from an RTP 300 Series polycarbonate compound reinforced with glass fiber for both dimensional accuracy and impact resistance to provide protection from unexpected accidents. In addition, the material is precolored in Datacard's signature blue, distinguishing it from competitor's products on supplier's shelves. "Customized materials allowed us to satisfy notably different requirements in one material," said Paulson. "Ideally, we would have liked to use one material for all parts; however, these dissimilar materials, formulated specifically for the properties we needed, really show improved performance. And that performance is guaranteed for the life of the printer," he said.
Datacard Group provides software, systems, and professional services needed to build profitable card programs. The company's portfolio also includes a complete line of smart card solutions, secure digital identity systems, and card personalization systems. Datacard Group is privately held, based in Minnetonka, MN and serves customers in more than 120 countries. For more information, visit their website at www.datacard.com.