Inert PPA Compound Maintains Sample Integrity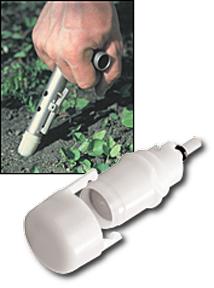 When En Novative Technologies, Inc., developer of the En Core® Sampler, set out to create a device to collect soil samples with minimal handling and maximum accuracy, it tested 20 to 30 different resins. "We tried a lot of the new, high-tech composite polymers, but most failed for one of two reasons," explained Chris Reitmeyer, Head of Research and Development. "Some of the polymers had colorants or stabilizers that contaminated the sample. Some were clean but absorbed contaminants away from the soil. In both cases, they compromised the integrity of the sample."
RTP Company's engineers were brought in to research solutions and recommend a specialty compound that would be non-absorbent and provide important structural properties to withstand the pressure applied during soil collection. Their solution was a natural RTP 4000 Series polyphthalamide compound, the same inert polymer used for pumps in the petrochemical industry. The compound is reinforced with glass fiber and displays a tensile strength of 32,000 psi (220 MPa) and flexural strength of 45,000 psi (310 MPa).
According to Mary Stuiber, Sales Coordinator for molder Kaysun Corporation, En Novative stringently tests each lot for cleanliness. "RTP Company has gone the extra mile to ensure the production orders meet tight specifications. They correct any variances immediately to make sure the material is consistent from lot to lot."
The En Core® Sampler is used by environmental engineers, primarily to test underground storage tank sites. The compound helps maintain the sample integrity and protects it for up to two days while in transit. Engineers who use traditional metal samplers must preserve the soil with methanol or sodium bisulfate in the field before sending it to the laboratory.
En Novative Technologies, Inc., is located in Green Bay, Wisconsin. Contact them toll free at 888-411-0757 or 920-465-3960. Molder Kaysun Corporation can be reached in Manitowoc, Wisconsin, by calling 920-686-5818.