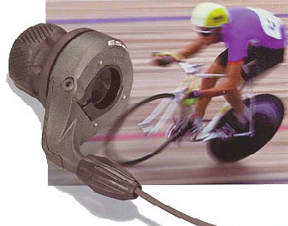 SRAM Corporation, headquartered in Chicago, specializes in high-performance shifters, derailleurs, brake levers and accessories for all types of bicycles. The material demands for the components are multiple and extreme.
When SRAM came to RTP Company for a specialty compound for their ESP 9.0 shifter, they needed a UV stable, precolored material with excellent physical properties.
After extensive testing, SRAM decided on a glass fiber reinforced RTP 200 Series (nylon 6/6) specialty compound. Standard material testing was followed by prototype development and field testing.
The nylon 6/6 compound achieves all performance and aesthetic requirements. The material exhibits an unnotched impact strength of 20 ft. lbs/in. (1,068 J/m) and a tensile strength of 26,000 psi (179 MPa). It achieves a flexural modulus of 1.3 x 106 psi (8,957 MPa).
The ESP 9.0 is available in two colors, both featuring a metallic characteristic. Ensuring physical performance and critical color matching is key to the project's success, according to David Zimberoff, SRAM manager of industrial design. "The colors are right on," he says. "The lot-to-lot consistency is great."
The part is molded under strict guidelines to ensure part integrity. A two-cavity mold is used to manufacture right- and left-hand components.
SRAM Corporation began serving the recreational and competitive cycling markets in 1987. Through Olympic-level sponsorship, they have one gold and two silver medals to their credit. For more information about SRAM products, call 312-664-8800.