Color Concentrates Intensify Vibrancy of Seasonal Tools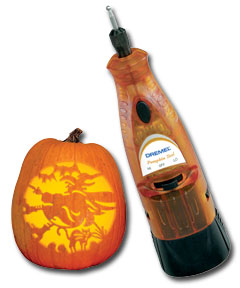 How does a Pumpkin Carving Kit "jump" off the store shelf and entice a Halloween enthusiast enough to buy it? The answer: vibrant colors and affordability.
Dremel, the originator of the multipurpose rotary tool, knew that their Pumpkin Carving and Golf Cleaning Kits needed to have tremendous shelf appeal to be successful. Therefore, Dremel was extremely particular about the color specifications of the MiniMite Cordless Rotary Tools that are the centerpiece of the kits.
Working with a color supplier who understands their needs and is able to deliver under strict time constraints is crucial. Because of the pivotal requirements of their MiniMite tools, Dremel turned to RTP Company for cutting-edge, custom color solutions for the tool's housings.
The Color Division of RTP Company offers both precolored resins and masterbatches without bias, allowing customers to choose which method is the most efficient and economical for their applications. Together, RTP Company and Dremel determined that the coloring of their MiniMites was best accomplished with a masterbatch. RTP Color worked with Dremel to efficiently deliver eye-catching masterbatch colors, meeting their goal to improve the color of the tools with an intense vibrancy.
"RTP Company made it very easy to walk through the process of choosing the right combination of color pigments to affordably make our tools stand out on the shelf," said Justin Matuszek. Dremel Product Manager. "We needed to go through a couple different color variations and RTP Color provided quick turn-around on samples, making it very easy to dial in the right color. There was also a cost benefit with the RTP Color masterbatch products."
Precolored Compounds Provide Consistent Aesthetics in Rotary Tools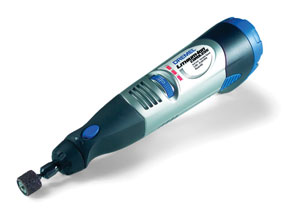 In addition to the MiniMite kits, Dremel also developed a new line of premium corded and cordless rotary tools. Aesthetics were essential in the design of the housings for the multi-functional Dremel 400 Series XPR and the Dremel Lithium-Ion Cordless Rotary Tool. It was important for the base material of the housings in the products to have the same consistent, dazzling silver metallic appearance, which is perceived as professional and durable.
Because the metallic effect was better delivered through a precolored compound as it was combined with other functional additives, RTP Company engineered a custom compound that would meet all of the tool housings' requirements.
The housings were molded from an RTP 200A Series glass fiber reinforced nylon 6 with UL94 HB recognition. The compound exhibits a tensile strength of 20,000 psi (138 MPa) and flexural modulus of 1.2 x 106 psi (8274 MPa), meeting the needs for strength and rigidity. An unnotched Izod value of 15.0 ft-lbs/in (800 J/m) provides the necessary impact resistance. And, of upmost importance, the components meet the critical color match.
By combining strength with aesthetics in this custom compound, Dremel is able to take their innovative tools to the next generation for do-it-yourselfers, professionals and hobbyists who appreciate the high quality and options offered in the different models. Quality and options are also what sets RTP Company apart. By offering a diverse portfolio with unbiased products, customers will receive the ideal color solution — whether masterbatch or precolor — for their application requirements.
Since inventing the high-speed rotary tool more than 70 years ago, Dremel has become the trusted name in high-speed rotary tool technology, providing creative solutions for hands-on professionals, homeowners, craftspeople and artists alike. Dremel's leadership in design and manufacturing has made it the top-selling rotary tool in the world, a reflection of the company's commitment to innovation and quality. For information on Dremel products, project ideas and problem-solving tips, visit them at www.dremel.com or call Dremel at 1-800-437-3635.