Value Products Provide Superior Strength in Snowmobile Clamp at an Astonishing Value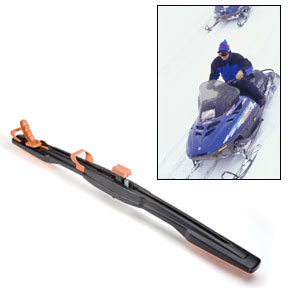 Snowmobile enthusiasts have embraced the SuperClamp as their preferred tie-down system because of its sleek appearance, easy use, and superior durability. The product has evolved from an original design made from steel to the first fiber-filled composite system. The new redesigned SuperClamp II has implemented further improvements thanks to Gemma Plastics and Value Product materials from RTP Company.
"For unique and challenging applications, RTP Company is the compounder we go to," said Tom Vermeeren, Owner of Gemma Plastics. "When RTP Company introduced their RTP PA 66 40% Glass Fiber Value Product grade, we redesigned the SuperClamp around it. By using the Value Product, we were able to meet our target price point while supplying our customer with a better product."
RTP Company's Value Products were commercialized in 2005 in formulations processors commonly choose. They are stocked, ready to ship, and offered at lower costs. The line was initially introduced with basic glass-reinforced nylon 6 and nylon 6/6 type products. Expansions have included standard glass-filled polypropylene, talc-filled polypropylene, and new additions to the glass-reinforced grades.
Prior to the redesign of the SuperClamp, there were breakage and design problems. The RTP PA 66 Value Product with 40% glass fiber provided a better product that nearly doubled the impact strength. The notched Izod impact strength increased from approximately 1.0 ft lbs/in to 1.9 ft lbs/in (101 J/m) with the Value Product. The SuperClamp's tensile strength also improved dramatically to 27,000 psi (183 MPa).
At Gemma Plastics, this is only the beginning for Value Products. As their products are continually being improved, Value Products are playing a big role. A new clamp for ATV's is in development that promises to be even more popular than the SuperClamp.
"The majority of the materials in these products will be Value," said Vermeeren. "However, we will continue using specialty compounds from RTP Company for other components that require more stiffness and strength, such as the hook on the bottom of the SuperClamp. Currently it is made out of metal, but we are redesigning it to incorporate a 60% Long Glass Fiber Compound from RTP Company."
As Gemma continues to fulfill its promise to provide affordable innovative and amazing products, RTP Company continues to offer matching solutions. Value Products offer more than just one solution; they offer a truckload of solutions… with rapid turnaround!
Gemma Plastic Products offers superior products at superior prices. Gemma specializes in compression, transfer and injection molding of engineered rubber and plastics. For more information, go to www.gemmaplastics.com.
For more information on the SuperClamp, visit www.superclamp.net.