You and your colleagues are invited to join RTP Company for a one-day, no cost Engineered Plastics Workshop where our experts will teach you about thermoplastic compounds and provide you with valuable information regarding material selection.
AGENDA | PRESENTERS | DOWNLOAD BROCHURE
Date: April 9, 2019 | ITASCA, IL
Location: Holiday Inn Itasca*
860 West Irving Park Road, Itasca, IL 60143
---
Date: April 11, 2019 | MILWAUKEE, WI
Location: Best Western Plus Milwaukee Airport*
5105 South Howell Avenue, Milwaukee, WI 53207
*Preferred hotel rates are available at each location. See registration form for details.
Register!
---
Workshop Schedule:
NOTE: There will be breaks between presentations.
TRACK A
TRACK B
7:45 a.m.
Registration
8:45 a.m.
Introduction to RTP Company – Pat Doyle
9:00 a.m.
Introduction to Engineered Thermoplastics – Steve Maki


Steve will explain how to use resin morphology, temperature performance, and cost to choose the right polymer, followed by a discussion on additives and how they can overcome some polymer deficiencies. Steve's case studies will test your knowledge.

10:00 a.m.
Tough or Strong? Short or Long? Dialing in Mechanical Performance – Karl Hoppe


Karl will give an overview of additive technologies that can be used to change mechanical properties in thermoplastics. Topics include alloying and impact modification as well as various reinforcement technologies.

Get Amped Up about Conductive Plastics – Eli Grant


Eli will bring you up to speed on exciting ways to use thermoplastics for managing electricity and heat! Discover the advantages these high performance materials have over other traditional conductors.

11:00 a.m.
Live in the Wall Section: CAE Tools
– Barb Matousek


Not all analysis is created equal; understand what you're getting and what it means. Barb will give a comprehensive review of CAE analysis tools and their capabilities for aiding part design and troubleshooting.

Everything You Need to Know about TPEs
– Sean Cumiskey


Sean will provide a brief overview of Thermoplastic Elastomer (TPE) technologies and then discuss how RTP Company uses these technologies to offer a variety of TPE solutions for challenging applications.

11:50 a.m.
Complimentary Lunch
1:00 p.m.
High Temperature Compounds – Steve Maki


Steve will discuss our portfolio of compounds that are specifically formulated for the unique challenges that high temperature environments present. Learn how our thermoplastic compounds can withstand the heat!

Choosing Healthcare Materials with Confidence
– Karl Hoppe


Healthcare applications have unique exposure and compliance considerations. Karl will discuss how to account for these during material selection.

1:30 p.m.
Live in the Wall Section: Design Principles
– Barb Matousek


Barb offers a comprehensive overview of principles for designing with reinforced thermoplastics, including material issues, tool design concerns, processing challenges, and best practices.

Color, Laser Welding, and Light Control – Anna Kreofsky


Anna shares the basics of color perception and measurement with an emphasis on common color spaces and practical production tolerances for the plastics industry. She will conclude with a discussion of laser welding and light control products for a variety of applications.

2:30 p.m.
Wear in the World of Plastics – Ben Gerjets


Ben will help you make sense of wear and friction principles that affect plastics. He'll cover the common additive solutions beyond traditional PTFE, review test methods, and share information about products to meet demanding wear conditions.

Answers to Your Burning Questions: Flame Retardants, UL, and Building – Paul Muehring


Paul will provide an overview of the mechanics for making flame retardant compounds, and the process for obtaining a UL listing. He will also cover how these ratings apply to specific building applications.

3:30 p.m.
A Practical Guide to Selecting the Correct Thermoplastic Compound – Karl Hoppe


Karl builds off of Steve Maki's introductory presentation to show what the material selection process looks like from the inside. Lively examples and anecdotes round out the day!

4:15 p.m.
Thank you and Door Prizes
---
Meet the Presenters:

Pat Doyle
North Central Regional Manager
Steve Maki
Vice President of Technology
Karl Hoppe
Senior Product Development Engineer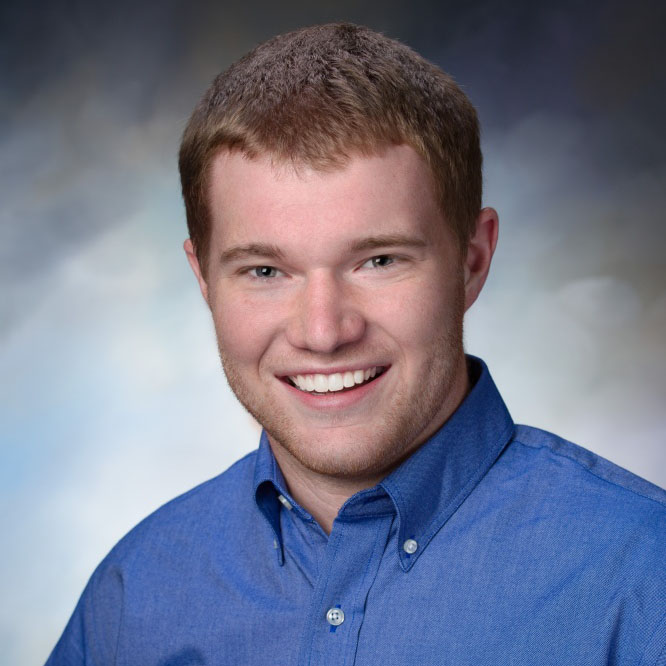 Eli Grant
Conductive Business Development Engineer
Barb Matousek
CAE Analyst
Sean Cumiskey
Senior Product Development Engineer
Anna Kreofsky
Color R&D Engineer

Ben Gerjets
Product Development Engineer
Paul Muehring
Product Development Engineer