Thank you for your interest in our webinar. If you have any questions please contact your local Sales Engineer.
Recording of the webinar
 PowerPoint presentation (.pdf):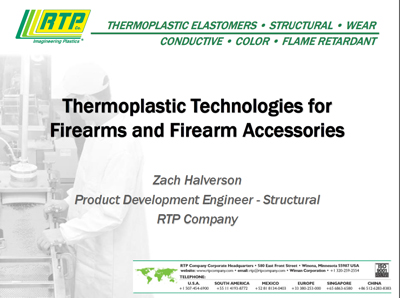 Q and A from the Webinar
Lead times for VLF or Carbon filled materials?  Lead times vary depending on the specific material in question but in general an extruded compounded, including carbon fiber reinforced materials, will have a lead time on average of 2-3 weeks whereas a VLF material has a minimum lead time of 4 weeks.  Specific compounds may have longer lead time due to raw material availability.
What about noise dampening aspects of VLF vs. short glass fibers (at = loadings)?  Although we don't have any data comparing the two, noise dampening qualities should be very similar between the two since the overall composition of the materials are the same.
What are minimum wall thicknesses and flow lengths typically seen in VLF components?  How well does Moldflow simulation predict VLF molding?
In general, in order to maintain the fiber integrity of a long fiber, the wall thickness should be 0.080" or greater though we have seen instances where parts were successfully molded with even thinner wall sections.
Moldflow predicting the behavior of long fiber materials can be quite accurate provided that an accurate material model is used.  Good material data is very important for accurate prediction.  Also, Moldflow analysis for long fiber materials should be done with the ARD-RSC model reduced strain closure factor within Moldflow to account for how the long fiber flow develops.
If more specific information about doing Moldflow analysis with long fiber materials is needed, RTP has a dedicated Computer Aided Engineering department that can be contacted through your local Sales Engineer.
Is the carbon fiber more heat resistant than very long fiber?  Heat resistance is going to be limited more by the polymer being used than the reinforcement.  RTP engineers can find the right base resin and/or heat stabilization packages to suit the needs of a wide range of thermal requirements.  Information regarding service temperature range and expected duration should be brought up early in the process if possible.

Have any materials been proven in Marine Corp drop testing protocol?  Namely the PA6 or 66 in high glass fill?  More information would be needed on the specification in question in order to give an accurate answer. Please contact your local Sales Engineer or contact Zach Halverson at  (507) 474-5393

For more information on our structural products including chopped glass, Very Long Fiber glass and carbon fibers please see our Structural Products Page.