RTP Company has roots extending back to the late 1800s, when founding family members Joe and Jenny Miller emigrated from Poland to Winona, Minnesota. In those days, Winona was a big lumber town, with sawmills extending several miles along the Mississippi River on what is now known as Front Street. Logs, mainly white pine, were floated down the Mississippi River by the millions, assembled in huge log trains, and held together by steel chain. Winona was a good place to process the logs, as the Mississippi turns east and it was easy for the lumbermen to bring the logs ashore.
An entrepreneur at heart, Joe Miller realized early on that steel was associated with the lumber and other industries, and that he should be able to make a living in the steel industry. He and Jenny settled in Winona and started trading in metal, fabrics and a variety of other things. His family also got involved in demolishing buildings to recover metal and other products, an early form of recycling.
In 1923, Joe decided to try something different: he established Miller Waste Mills, a company that processed the fabric used to lubricate railroad wheels. The material produced, called "waste", was dipped in oil and then placed in a journal box under the axle to lubricate the wheels on rail cars. Miller Waste Mills grew quickly, as railroads themselves were growing rapidly and the demand for waste was high. The company prospered for 30 years during the railroad boom, and still operates today as a recycling plant for fabrics, converting them to reclaimed fibers that are used in oil filtration, metal polishing, and many other applications.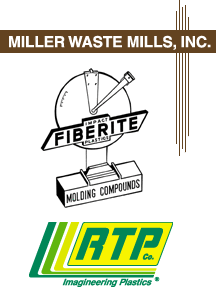 By the mid- to late-1940s, two of Joe's sons, Ben and Rudy Miller, were running Miller Waste Mills. They realized that with the advent of the ball bearings, waste products would no longer be needed to lubricate the wheels on rail cars. With the same entrepreneurial spirit as their father, they began to look for new opportunities, and settled on the relatively new plastics industry. In 1948, they started Fiberite, a thermoset plastic company. Although Fiberite struggled at first, it proceeded to grow and prosper, and was sold to Beatrice Foods in 1980. A small fraction of Fiberite's products were thermoplastics. The thermoplastics portion of the business was sold back to the Miller family in 1982, and ultimately became RTP Company, named for Reinforced ThermoPlastics. Hugh Miller, Ben's son and Joe's grandson, has been running RTP Company ever since.
Over the years, we have grown steadily and have added facilities around the world: Wiman Corporation, our plastic film subsidiary; Engineered Sheet Products, our plastic sheet division; Hueforia, our color team; a high volume contract manufacturing division; and a partnership with ResMart, a distributor of unfilled resins.
Today, RTP Company is a world leader in specialty thermoplastic compounding. Headquartered in Winona, the original plant is located on Front Street where a sawmill once stood. With manufacturing operations in the U.S., Mexico, Europe, and Asia, RTP Company makes thousands of products each year for a variety of markets, including electronics, business machines, automotive, appliance, consumer, medical, sports and leisure, and industrial. RTP Company employs over 1,700 people and is founded upon a very strong customer service culture that focuses on technology, flexibility, independence, and speed.