Drug delivery devices, surgical tools, in-vitro diagnostics, orthopedics and other healthcare segments benefit immensely from the use of proven medical grade plastic compounds that help create safe and effective medical devices.
Material Selection
RTP Company works with nearly all medical grade resins available on the market and can speed your product development process by helping you arrive at the correct material choice that meets your cost, performance, and regulatory goals. RTP Company does this through maintaining a known biocompatible database that tracks the regulatory performance of resins, additives and colorants.
Change Management
Change management is critical in maintaining the integrity of your device testing. You will be provided with ultimate control over your formulation with RTP Company's "no material substitution" and customer notification policy. Over the years, RTP Company's purchasing department has also identified a supplier base that is committed to supplying the medical market.
Problem-Solving Compounds for Medical Devices
Sterilization Resistance

Steam autoclave, Gamma, E-Beam, other

Antimicrobials

protect plastic items against the damaging effects of microorganisms and inhibit the spread of fungi (mold and mildew), algae, and other microbes which can cause discoloration, unpleasant odors, and polymer degradation issues.

Mobile Medical Equipment

can benefit from the strength and durability of thermoplastic technologies. We offer a full complement of thermoplastic materials that serve a variety of uses in mobilized medical equipment, such as beds, mobile devices and stands, and wheelchairs. Whether your application requires chemical resistance, strength, or pleasing aesthetics, we have a Very Long Fiber (VLF), Carbon, or short glass compound solution for you.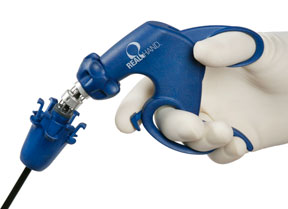 Novare Surgical has integrated its RealHand HD technology into a series of endo-laparoscopic instruments such as graspers, dissectors, scissors, and needle driver