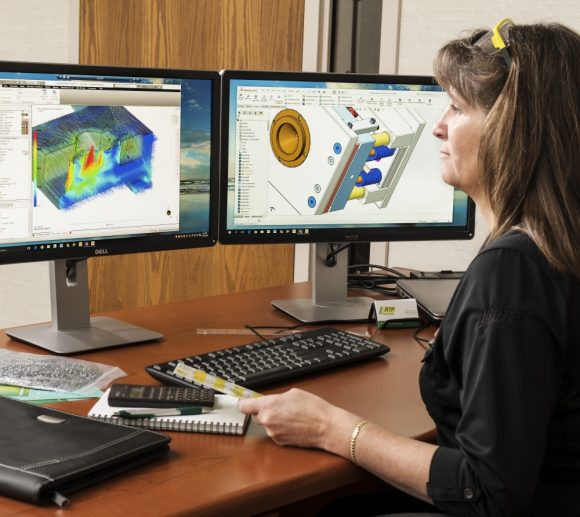 Computer-Aided Engineering, or CAE, is an important injection molding plastics tool that has the potential to save companies' time and cost. RTP Company's CAE Services Group assists our customers with technical design issues from conception of an idea to final part manufacture for an infinite array of competitive applications.
Capabilities
Our CAE support group can effectively utilize state-of-the-art CAE tools for composite materials in both structural and moldability analysis. We offer product design review and consultation of the following:
Design Assistance for Metal to Plastic Conversions
Plastic Part Design Assistance
Mold Design Assistance
Structural Failure Consultation
Composite Materials Design Assistance and Education
Quick Mechanical Structural Design Review
Product Testing Recommendation
RTP Company Support Software
SolidWorks
Allows us to import solid models from other CAD packages for quick, easy geometry exchange.
Moldflow's MPI/Fusion
Allows quick dual-domain injection molding analysis.
Moldflow's MPTI/Flow
Allows allows traditional midplane simulation of injection molding.
Moldflow's MPI/Fiber
Allows analysis of fiber-filled materials where properties are affected by the direction of material flow.
Moldflow's MPI/Warp
Allows warpage predictions.
Moldflow's MPI/Stress
Allows structural analysis while considering the anisotropic properties of filled materials.
MoldFlow's Data Fitting
Module allows us to fit test data for our materials to give the most accurate results.
Moldflow® Filling Analysis
(Fusion™ and Midplane)
Design plastic parts for ease of manufacturing and identify features that may limit the injection molding cycle
Optimize gate size and location
Determine and/or relocate weld line locations
Estimate molding parameters and investigate alternatives to improve processing
Identify undesirable fill patterns that could lead to warpage
Structural Analysis
Metal to plastic conversion
Structural failure analysis
Structural analysis which considers the non-uniform properties of plastic due to fiber orientation
Locating gates for best structural product performance
Part design assistance for best mechanical performance
Moldflow® Warpage Analysis
(Fusion™ and Midplane)
Compare the effects of various gate locations on part warpage
Compare part shape and warpage with various materials
Design parts to minimize warpage issues during molding
Diagnose and solve warpage problems with current molded parts
Material Data Assistance
RTP Company can provide guidance and material data for customers doing their own CAE Analysis. Customers will benefit from our in-house testing and curve-fitting for standard materials and custom materials. Your custom materials data will be processed with RTP Company's strict confidentiality procedures.
Moldflow and Fusion are trademarks or registered trademarks of Moldflow Corporation
Data for Select Compounds
Guidelines for Plastic Design
Overview of application and/or part design considerations that should be taken into consideration working with thermoplastic compounds and the injection molding process to eliminate common problems.
Request a Molding Guide