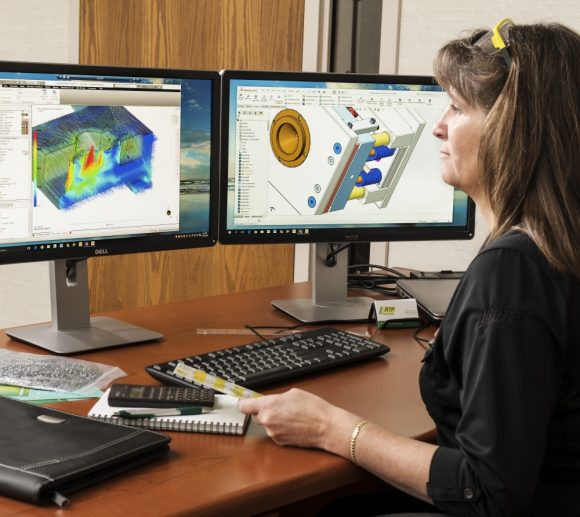 Our Computer-Aided Engineering (CAE) Team uses state-of-the-art CAE tools for composite materials in both structural and moldability analysis. We offer product design, review, and consultation of the following:
Injection molding analysis
Structural analysis (FEA)
Plastic part design assistance
Mold design assistance
Structural failure consultation
Design assistance for metal-to-plastic conversions
Composite materials design assistance and education
Quick mechanical structural design review
Product testing recommendation
RTP Company Support Software
SolidWorks®, Elysium CADdoctor™, and Autodesk® SimStudio
These programs allow RTP Company to import solid models from other CAD packages for injection molding analysis or structural analysis.
FEMAP and Autodesk® Nastran®
RTP Company uses these programs to simulate complex structural problems and determine resulting stresses and deflections.
Autodesk® Moldflow® Plastic Insight (Midplane, Dual Domain or 3D)
This software allows for a wide range of analyses, from quick simple filling analysis to complex overmolding simulation or anisotropic warpage prediction.
Autodesk® Moldflow® Plastic Insight Stress
This software is used for structural analysis while considering the anisotropic properties of filled materials.
Autodesk® MoldFlow® Data Fitting
This module allows RTP Company to fit test data for our materials, providing the most accurate material models for analysis.
Autodesk® Moldflow® Plastics Insight Filling Analysis
RTP Company uses state-of-the-art injection molding analysis software to simulate the injection molding process. Autodesk® Moldflow® Plastic Insight allows us to model complex material properties and molding behaviors in unique material formulations. Such analysis can help determine whether a part can be molded with a specific material, what the molding process might look like, and whether any part or tooling design changes might be necessary.
(Midplane, Dual Domain or 3D)
Filling analysis is used for the purposes of:

Designing plastic parts for ease of manufacturing and for identifying features that may limit the injection molding cycle
Optimization of gate size and location
Determining and/or relocating weld line locations
Estimating molding parameters and investigating alternatives to improve processing
Identifying undesirable fill patterns that could lead to warpage
Autodesk® Moldflow® Plastics Insight Warpage Analysis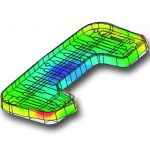 RTP Company uses state-of-the-art injection molding analysis software to simulate cooling and shrinkage in injection molded parts. Autodesk® Moldflow® Plastic Insight allows us to model complex material properties and predict how anisotropy, fill pattern, gating, part design, tool design and the molding process might contribute to the ultimate part shape. Warpage analysis can help at any stage in the product development process to help discover things that might contribute to parts being warped or out of round. Warpage simulation can be a great tool for determining the cause of warp in existing tooling.
(Midplane, Dual Domain or 3D)
Warpage analysis is used for:

Estimating overall part quality and dimensions before tooling is cut
Comparing the effects of various gate locations on part warpage
Comparing part shape and warpage with various materials
Designing parts to minimize warpage issues during molding
Diagnosing and solving warpage problems with current molded parts
Structural Analysis
Our CAE Team uses FEMAP and Autodesk® Nastran® FEA software as well as Autodesk® Moldflow® Plastic Insight to review the structural requirements of a part or system in its application. Whether designing for one-time use or for an application in which creep or fatigue could cause failures, structural analysis is often a starting point in determining the strength of the material required and how the tooling needs to be built. One of the biggest challenges in structural analysis for complex fiber reinforced materials is modeling the mechanical properties in a part that is injection molded with an anisotropic material . Moldflow® can be used to review fiber orientation and determine what the mechanical properties will ultimately look like, and FEA can be used to determine the areas of highest stress. This is often an iterative process in which changes to design, material and tooling are all balanced to get an acceptable design.
We provide structural analyses for:

Metal-to-plastic conversion
FEA – this service is provided prior to material selection to assure material strength is adequate for the application
Additional data during Autodesk® Moldflow® Plastics Insight fiber orientation analysis to assure best mechanical properties in critical stress areas
Identification of potential structural failure
Determining gate locations for best structural product performance
Part design assistance to optimize mechanical performance
Material Data Assistance
RTP Company can provide guidance and material data for customers doing their own CAE analysis. We have a proprietary company database and can do in-house testing and curve-fitting for both standard and custom materials. Your custom materials data will be processed with RTP Company's strict confidentiality procedures. If you do not find the RTP material you're looking for in your injection molding software database, contact us! We have over 400 materials characterized for flow simulation and if your material is not already characterized, we can help you understand the details of how the material will behave and the level of testing required to accurately predict its behavior during molding. RTP Company understands that the better the predictions are from the start, the better the overall project outcomes will be. With that being said, even if a reasonable material model doesn't exist, we'll test it for you!
---
More Information
For more information, view our Part Design Guidelines for Injection Molded Thermoplastics Brochure…
View Brochure
View alternative languages of this brochure:
Chinese