End-Use Case Study
Mineral filled nylon colored to look like metal
Good impact resistance and weld line strength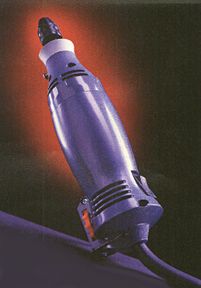 Maxicraft S.A. in Vemantes, France, manufactures a complete line of sturdy hand-held tools used by do-it-yourself consumers throughout Europe. When they needed a sturdy, yet aesthetically pleasing material for their portable drill housing, they turned to technical experts at RTP Company's plant in Beaune, France.
The mineral-filled nylon 6 compound exhibits a tensile strength of 10,000 psi (69 MPa), with a flexural strength of 17,400 psi (120 MPa). It also features unnotched impact resistance of 16.5 ft lbs/in (310 J/m) and good weld line strength. Because of proximity to the enclosed motor, the compound had to meet heat requirements of 383 degrees F (195 degrees C) at 66 psi.
Many tool manufacturers specify reinforced thermoplastics instead of metal to reduce weight and costs. In addition, compounds absorb electricity and are warmer to the touch when used outdoors in cold weather.
RTP Company's color specialists worked with Maxicraft on a critical color match that would imitate metal without leaving flow lines on the molded part. An exacting combination of blue and gray metallic pigments produced an attractive, flawless drill housing.
Maxicraft S.A. is located in Vemantes, France, and can be reached by calling +33-2-4151-4218. The molder for the housing is A.I.P. in Chessieux, France.