End-Use Case Study
Specialty Compound Takes The Heat In Life-Threatening Environments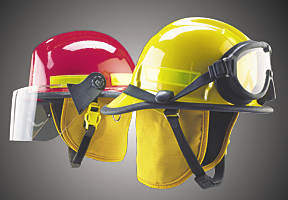 Cairns & Brother, Inc., has pioneered firefighter helmet technology since 1836. Their commitment to protecting lives is evident in their Cairns Helmet "systems," where engineered components synergistically work together for unparalleled protection in harsh environments.
In the early days, Cairns relied on leather, metal and pressed fiber construction. Today, they use advanced composite technology to maintain leadership in both helmet design and performance.
Cairns Helmets are available in various styles and configurations such as traditional, Eurostyle, and EMS. Helmets equipped with faceshields and goggles are essential for most firefighting situations.
When Cairns modified their faceshield design and introduced the first National Fire Protection Agency (NFPA)-compliant goggle, they turned to RTP Company for a high-performance material that could withstand exposure to extremely harsh chemical, thermal, and physical conditions.
A non-corrosive RTP 200 Series glass reinforced nylon meets these requirements. The material is classified as V-0 flame retardant at 1/16 in per UL94 flammability tests.
RTP Company and Cairns worked together to develop a flame retardant material which could be molded with preexisting tools. "Utilizing original tooling saved substantial time and money," said Michael Barthold, Cairns' Engineering Manager. "The ability of RTP Company to improve processing characteristics, while enhancing physical properties, is very impressive."
The faceshield and goggle hardware exceeds the NFPA Standard 1971 for heat resistance and flame retardance. The material withstands 500 degrees F for at least five minutes.
The specialty compound exhibits a flexural strength of 24,000 psi (166 Mpa) and a heat deflection temperature of 480 degrees F at 66 psi. The material is precolored black to match other helmet components.
Cairns & Brother, Inc. (http://www.firehelmets.com), Clifton, NJ, manufactures a wide range of head protection systems for firefighters that exceed NFPA and OSHA standards. The faceshield brackets are molded at Modern Plastics in Somerville, NJ; the goggle brackets are molded at Industrial Molded Products in Roselle, NJ.