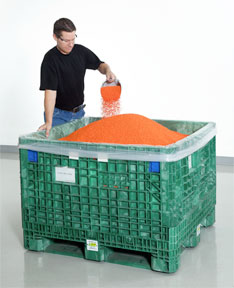 Reusable plastic bulk containers like those manufactured by ORBIS Corporation can save companies with a large shipping infrastructure in many industries millions of dollars annually, as well as help keep tons of cardboard out of the waste stream. Estimates suggest a typical return on investment of less than 12-18 months, with ongoing savings accruing for an additional 5-10 years.
So, when RTP Company logistics personnel suggested a pilot program to replace a portion of the cardboard gaylords used to package their compounds with reusable plastic bulk containers for regional deliveries made using their truck fleet, company President and CEO Hugh Miller was onboard right away — with a couple of stipulations.
"If we're going to do this, we're absolutely going to use our plastic to make the bulk containers," he directed. "And they need to be colored RTP Company green."
With RTP Company's engineered plastics and color expertise, supplying the material and custom matching their logo color to better promote their brand would not be a problem. A quick search turned up an existing customer, reusable container manufacturer ORBIS located just a few hours away in Oconomowoc, Wisconsin.
Many customers in the region surrounding RTP Company's Winona, Minnesota production facility are now receiving their custom compounds shipped in RTP Company green-colored reusable bulk containers that are molded using an RTP Company produced product and proudly marked as such. In addition, one of ORBIS' manufacturing locations is in the region serviced by RTP Company's truck fleet, allowing ORBIS to receive raw material in bulk containers made at one of its other plants.
The reusable bulk containers are produced by ORBIS using a precolored RTP 700 Series high density polyethylene compound. In company colors, they promote the RTP Company brand in a way neutral cardboard cannot, and, after a year of steady use, they have more than paid for themselves, while keeping cardboard out of the waste stream. And, according to users, they also provide some "bonus" logistical benefits.
"Not only are we able to stack them higher, freeing up floor space, but they are safer and the unique container color helps us quickly identify RTP Company resin in our busy warehouse." stated Cheri Tholen, ORBIS' Planning and Inventory Control Manager.